It is with heavy hearts that we share the news of the passing of our dear friend, coach and CrossFit Upcountry Maui founder Kaye Whitney.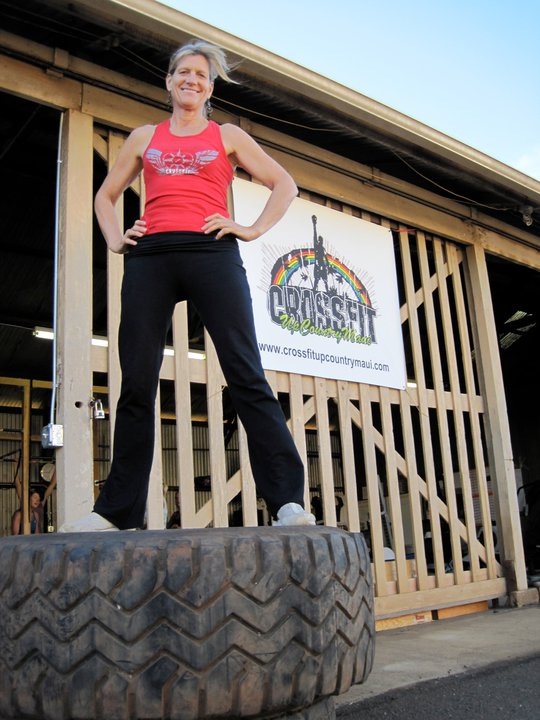 All are welcome to join Kaye's friends and family at a Celebration of Life in her honor.
**UPDATED INFO as of Friday, March 29th at 12:00 NOON***
Date: Saturday, March 31, 2012
Location: Hawaiian Canoe Club, Hoaloha Park, Kahului, Maui (Click for Map)
Time: 3pm – 6pm
PLEASE NOTE:
There will be a paddle out following the service. Some seats will be available in canoes, or bring your own gear to join in.
We will have paper and pens for a memory book; feel free to bring a favorite photo or memory to add to the book.
It could be chilly with the wind; you may want to bring a jacket.
Throw your beach chairs in your trunk in case you want one after standing for a while.
YOU CAN STILL HELP!
Mahalo to all who have volunteered their time and expertise. By now you have probably been contacted by a group leader. If you have not yet heard or signed up, there are still ways to help:
UPDATE ON FLOWERS AS OF FRIDAY MARCH 30 AT 12 NOON:
Due to the generous donations of flowers, no additional flowers are needed. If you haven't already been in touch with Christy Churchill, please do not bring additional flowers for Celebration of Life display and/or paddle out. Thank you!
Come to Hawaiian Canoe Club from 8:30 to 10 a.m. Saturday to set up tents, stage, move tables and chairs.
Help with flower arranging on tents, stage area and smaller table arrangements starting at 9:30 a.m. Saturday at the canoe club. Bring your own clippers.
Bring a paleo pot luck item, with a serving piece, when you come to the celebration on Saturday. Please let Angie know if you plan to bring something by emailing angiemaui@gmail.com.
Stay after the celebration to help clean up and break down tents.
Thank you for joining in the celebration of our coach, friend and CrossFit Upcountry Maui founder, Kaye Whitney.