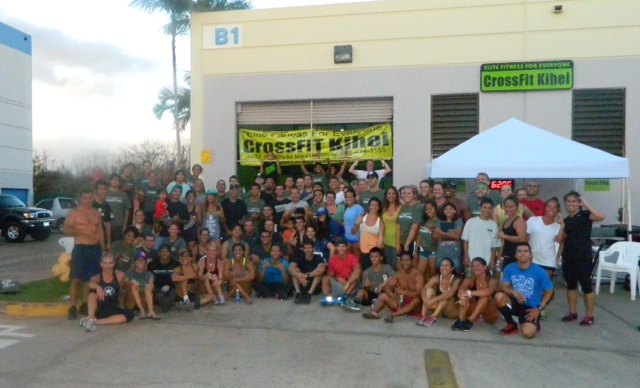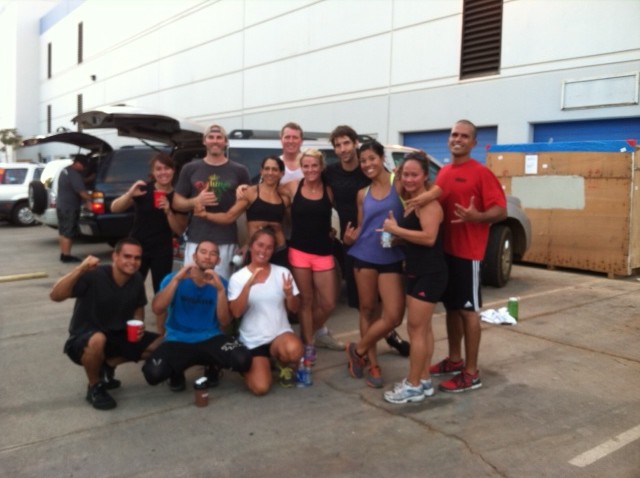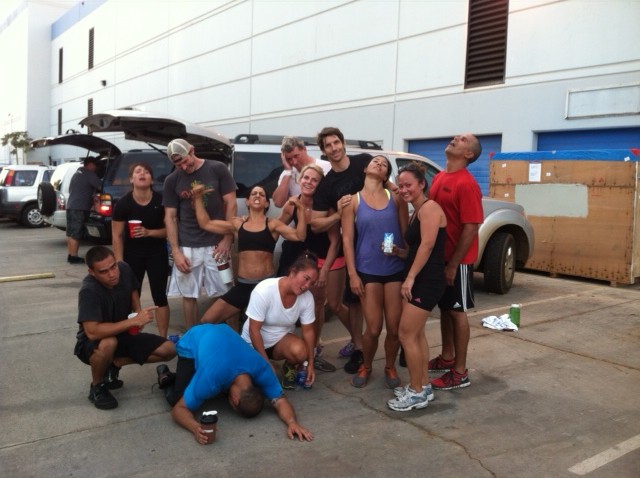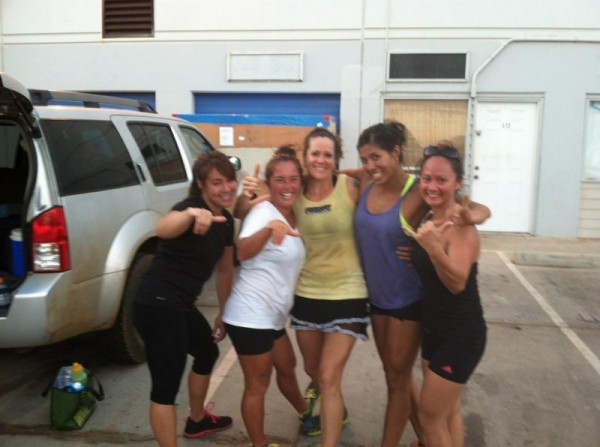 Photos from top: Participants shot courtesy of CF Maui • Post-workout posing • "OK, act like we're tired!" (Ahem, which two people didn't get the memo — Melissa and Frank?) • Holley, Where were you? Get in these pictures!
If you're looking for action, search no further. CFUM is where it's at!
Last weekend's local CF event, hosted by CF Maui in Kihei, was a huge hit, drawing nearly 100 participants from all isle boxes and a solid showing from your very own Upcountry crew. Special mahalo to Danny and Whitney, CF Maui owners, for organizing the event and serving as such gracious hosts. We're also thankful to family members and friends who showed up to support, like the Aganos family and Lisa Widell. The parking lot turned into a tailgate party until after nightfall and many of the local CrossFitters got to hang out and talk story, again proving that Neighbor Island affiliates are part of a tight-knit community of friends and family.
Overall, great work to everyone who showed up and completed the grueling marathon of a WOD. No Hero WOD is meant to feel enjoyable, but being a part of the sweat can help us remember the sacrifice of men and women in uniform.
Here are some highlights from Saturday's "Murph" at CF Maui in Kihei:
• Andrea snagged the top overall female time with a blazing 32-something minutes! She PRd on her mile run, which clocked below 7 minutes.
• Frank came in with a PR of 33:13
• Russ has been training predominantly strength and somehow managed to blaze through the first mile. He and Frank ran a 6:18 mile.
• Russ, Keaka and Frank were neck and neck going into the last mile
• Jason took the tougher route of rowing and PR'd on his Murph time
• Anders chopped about 8 minutes off his Murph time
• Diane, Patty and Helena, my dedicated crew of fearless women, not only did Murph last Saturday, they did Murph with us a week before that. That's Murph twice in a week! You girls are amazing!
• Melissa and Holley smoked their first Murphs — Automatik PRs! Chee!
• Warren, who's brand new to CF and already making insane progress, showed solid ROM, also charging hard and finishing the WOD stronger than ever.
We are so proud of each of you — not just for your times — but for showing up, being vulnerable to the discomfort and exemplifying that strength of body, mind and character are equally essential to the thing we're all striving for — health. Upcountry is strong. Impressively strong.
Finally…Get ready for a week of new WODs!
Here's the workout for Monday, July 9, 2012:
A. Strength
Front squat – linear week 2 (add 10#)
* DON'T FORGET TO WARM UP!
B. Metcon
50 thrusters ( 95 / 65 )
Every minute on the minute, do 5 toes to bar
C. Cash out
Good mornings 3 x 10