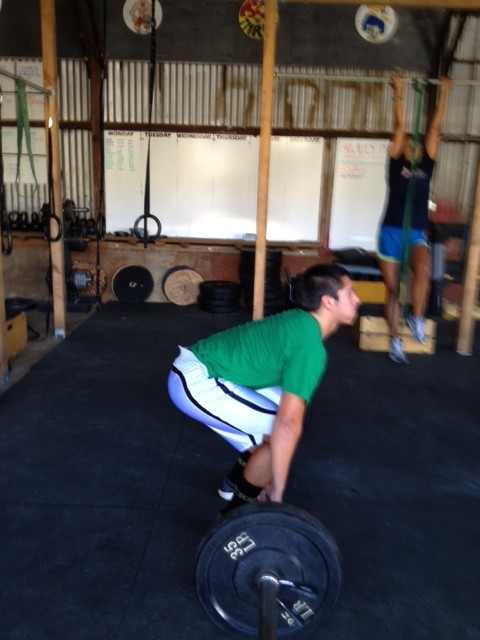 Isaac, who's been training at CFUM a little more than two months, is also a seasoned surfer who was featured recently on surfingmagazine.com. The young athlete and KKHS grad is making quick gains in CrossFit with Olympic weightlifting and gymnastics movements, including ring and bar muscle-ups and handstand push-ups. Check out his surfing video here: Isaac Stant // Maui // 2:45 | SURFING Magazine.
Here's the workout for Friday, July 20, 2012:
A. Strength
Snatch deadlift – linear week 3
B. Metcon
Five rounds for time:
5 overhead squats
15-yard shuttle run
10 deadlifts
15-yard shuttle run
* use the same weight for deadlift and overhead squat
C. Cash out
4 x 5 barbell roll-out to push-up
From knees:

From feet:

ATTENTION HANA RELAY RUNNERS: We're locking in CFUM sign-ups BY FRIDAY. If you don't have your name on the board by the end of TODAY, you will be an alternate for an existing team. Currently, we have more than 18 runners signed up to participate, which means we will likely have three teams of six people. The race date is Sept. 8, and cost is $40 per runner. For race info, visit this link: 2012 Hana Relay info. IF YOU ARE SIGNED UP, AND CANNOT RUN, YOU ARE RESPONSIBLE FOR FINDING AN ALTERNATE. Your race fees will not be refunded by CFUM; they will have to be refunded via the alternate you find to take your spot. We've done this for many years, and it can be a beast to plan. So help us make this an awesome experience for all CFUM participants. Get ready to rep Upcountry!
RECORDING YOUR WODS: We recently bought a stack of composition books. If you'd like to replace your binder with a new notebook, let us know and we'd be happy to give you one. Your old information can be taken home or transferred to your new book. Whatever you use, it is essential that you record the entire workout for the day, what weights you used, your results and how you felt. Especially with the new strength series, you must log your weight, sets and reps completed in order to move forward. Keep recording your work — we're confident it will prove the efficacy and efficiency of CrossFit.