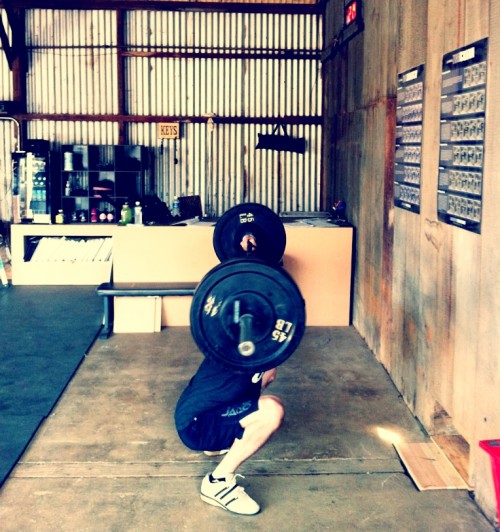 Guess this CFUM athlete, without getting any hints
Here's the workout for Thursday, July 26, 2012:
A. Make up strength / skill
Take the first 20 minutes of class to make up lifts you've missed or will miss. Stay consistent on the linear strength series. We have four weeks left to go!
Since you all rocked the tire flips Tuesday, we're going to add a new skill for next week: CFJ Balloon
B. Metcon
For time:
800 meters
Five rounds of the triplet
5 dips
10 box jumps ( 24 / 20 )
15 air squats
800 meters
IMPORTANT HANA RELAY INFORMATION: All 2012 Hana Relay participant fees ($40 per runner) must be turned in NO LATER THAN JULY 31, OR YOU WILL FORFEIT YOUR SPOT ON THE TEAM. Please bring cash. Team captains have been assigned and runners have been grouped. See whiteboard for more details. We are still considering adding another team, as we've received last-minute interest; however, all runners must be committed, race entry fees paid and teams assigned by THIS TUESDAY, JULY 31. This fun relay is not to miss — it's one of the most well-attended each year on Maui. Get on board to join your CFUM teammates before it's too late!