Olympic Weightlifting Certification with Coach Mike Burgener at CrossFit Lahaina
LAHAINA — CrossFit's Olympic weightlifting authority and accomplished USAW coach Mike Burgener made his first trip to Hawaii for the CF Olympic Weightlifting Certification August 18-19 at Lahaina CrossFit. Hosted by Anthony and Megan, Lahaina CF owners, the cert drew more than 40 from around the Hawaiian Islands and North America, including your coaches Kehau, Frank and Allison. The certification was an intensive two-day workshop of lifting, instruction and lots of PVC work. The certification goal was to offer coaches tools for implementing successful Olympic-style weightlifting in their CrossFit-based programs. Burgener, along with his coaches, son Cody and affiliate owner Jason, drilled the three fundamentals for teaching: proper stance, grip and positioning. Regardless of the varying ways of coaching the highly technical lifts, the certification had an atmosphere of respect for the esteemed teacher, and Burgener led with professionalism and proficiency that only a lifelong teacher and practitioner can boast. We're really thankful to have been a part of the weekend. It changed the way we will practice and teach the lifts, and it reminded us of why we enjoy the continually evolving "sport of fitness" that is CrossFit. Now get ready for some exciting stuff — especially when we head into September's oly lifting series!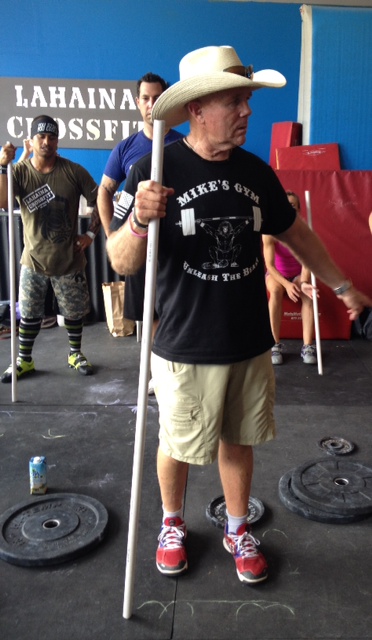 Legend status: Coach Mike Burgener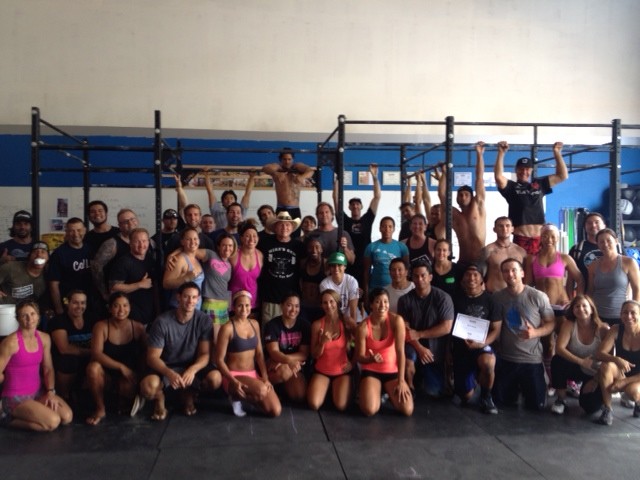 CF Olympic Weightlifting Certification at Lahaina CrossFit, Aug. 18-19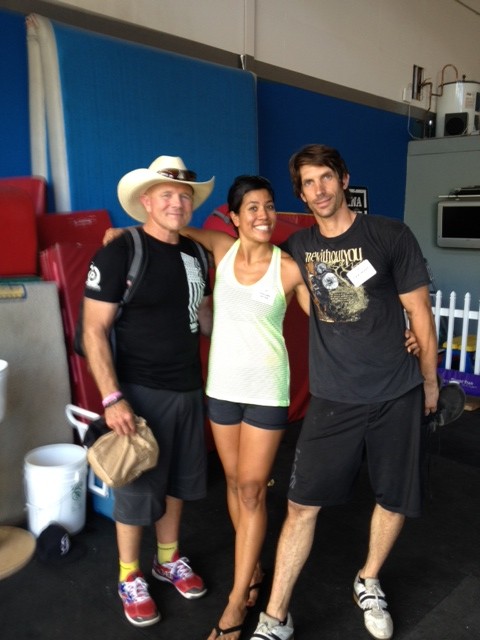 Coach Burgener's first trip to Hawaii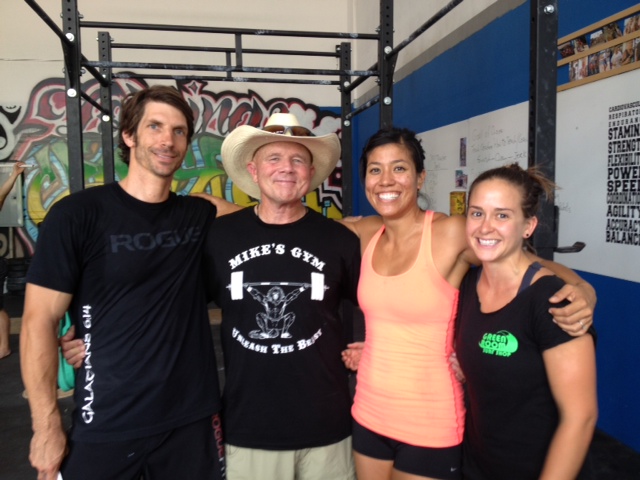 CFUM coaches with Coach Burgener after the
certificates were handed out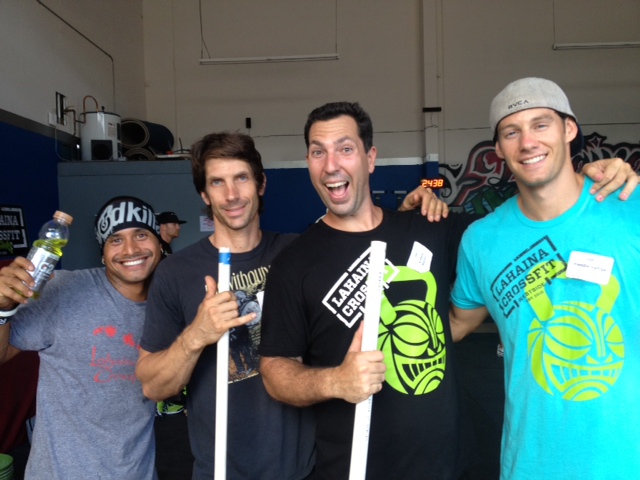 Frank, along with Lahaina CrossFit athlete Kawika (from left), owner Anthony and coach Freddy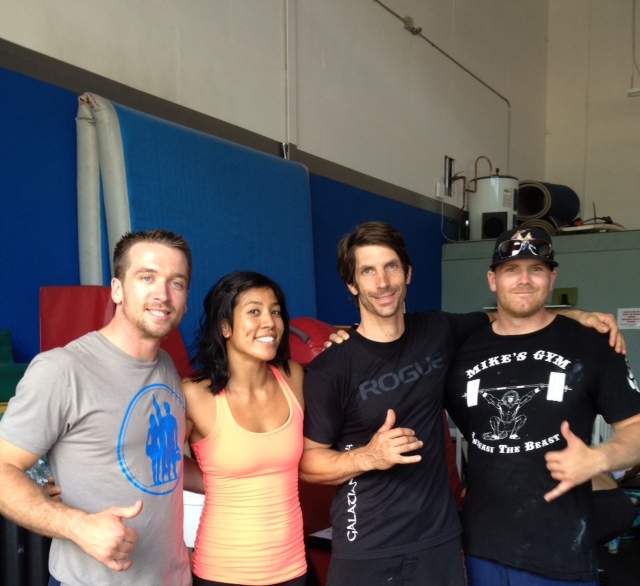 Burgener's assistant coaches: Jason (left) from Offshore CrossFit in Carlsbad, Calif., and Cody, Coach B's son, from CrossFit Invictus in San Diego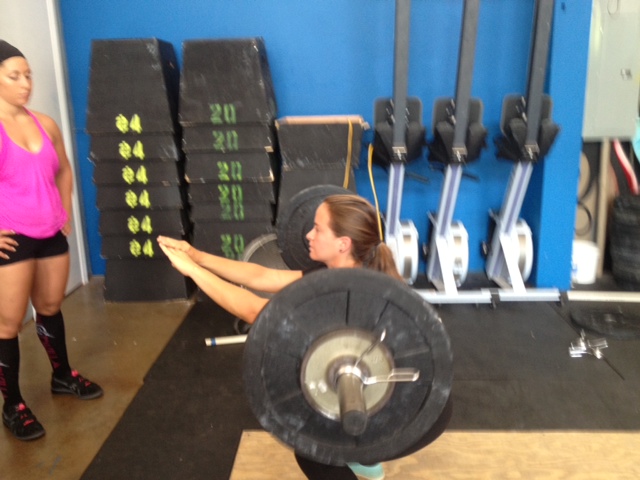 CFUM Coach Allison (back in action after a long vacation!)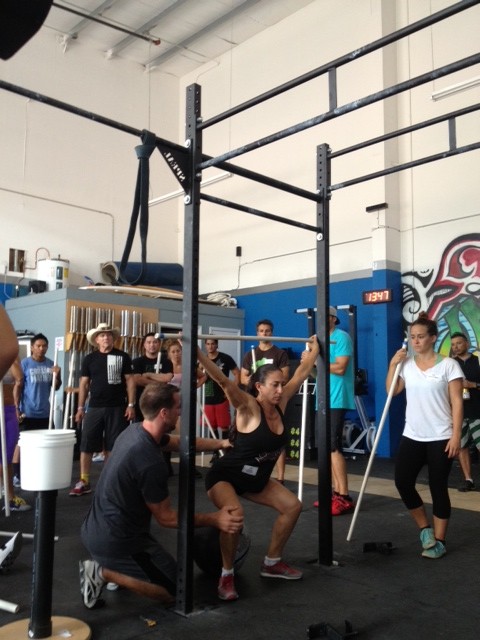 Amber gets assistance from Jason
Here's the workout for Monday, August 20, 2012:
A. Strength
Front squat – linear week 8 (this is the heaviest week of your program. If you failed in form or in completing reps last week, drop your weight 10 percent this week. Due to a higher strength load, we will be programming lighter metcons this week. Remember: Front squat and push press 1RM, 3RM and 5RM testing will be next week on Monday and Wednesday, respectively. After eight weeks of hard work, don't miss nailing your PRs!).
B. Metcon
For time:
Run 400 meters
50 air squats
40 sit-ups
30 Russian kettlebell swings (53/35)
20 push-ups
10 pull-ups
Run 400 meters
C. Cash out
3 x 15 Superman holds or back extensions