Guess this CFUM athlete, who's always color coordinated.
Dale nails a new 1RM

Here's the workout for Friday, August 31, 2012:
A. Strength
Good mornings 3 x 15
B. Metcon
Three rounds for time:
400-meter run
21 American kettlebell swings (53/35)
12 knees-to-elbows
C. Cash out
3 x 3 inverted burpees
***
Massage assessments Friday at CFUM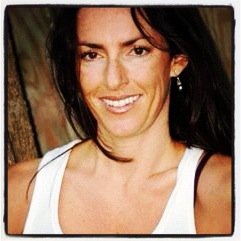 CFUM member Claudia Hochschild, licensed massage therapist, will be at the 8 and 9 a.m. classes today to give five-minute assessment massages. Sports massage is a key part of maintaining optimum strength and staying injury free, Claudia teaches. By bringing down the tone of a tight muscle and allowing it to revert to a relaxed state, the body will be able to work harder and smarter, especially in high-intensity training situations like CrossFit. Claudia, a massage professional for more than two decades and a Boulder School of Massage Therapy graduate, recently left her massage position at the Four Seasons in Wailea to restart her own practice, Body Therapeutics. Don't be fooled by her petite frame — Claudia is a super strong and versatile masseuse. Check out her work and talk to Claudia about new Body Therapeutics special rates: 280-5765; claudiahochschild@yahoo.com.