Normal schedule despite relay
Saturday's 8 a.m. class will continue as scheduled despite the Hana Relay. Craig will be coaching. And don't worry, the WOD won't be three rounds of 2.5-3.5 miles through hills, even though that's what your CFUM teammates will be doing. Kick off your weekend with a jolt of endorphins.
Here's the workout for Saturday, Sept. 8, 2012:
A. Group warmup
B. Metcon
Five rounds for time:
100-meter dumbbell farmer's carry
10 burpee box jumps
20 sit-ups
C. Cash out
Sledgehammer: Max reps for 30 seconds
***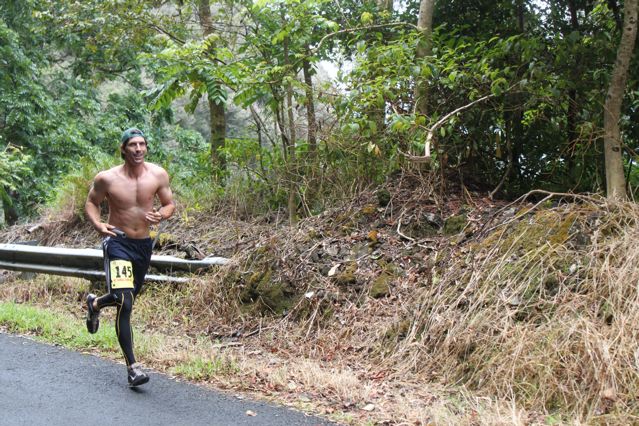 Frank at last year's Hana Relay, with our RFM team
Eighteen of your CFUM teammates — in three teams of six — will be hitting 52 miles of madness Saturday. We've planned, debated about costumes, organized rides and trained (some of us) for the big day. It's going to be tons of fun and you'll be sure to get the full scoop on Monday.
In the meantime, check out a story I wrote on last year's relay: Hana's Runway
Your teams are as follows:
WOMEN'S MASTERS
Theresa
Andrea
Sheila
Lisa W.
Chantel
Erin
MEN'S OPEN
Frank
Russ
Cory
Keaka
Kaipo
David C.
WOMEN'S OPEN
Diane K.
Melissa
Holley
Nova
Christy
Patty
HERE'S A LIST OF CFUM TRAITORS, MEMBERS WHO DITCHED US TO RUN ON SEPARATE, LESSER-THAN TEAMS. Just kidding! We love you all — look for us at the finish so we can take a group picture.
Kelly (Pez Dispensers)
Helena (Team Guava)
Ann (Angry Clowns)
Leah (team name unknown)
Dana (team name unknown)
Good luck to all!