Here's the workout for Monday, Sept. 10, 2012:
A. Strength
Snatch
a) high hang
b) take off
We are doubling up on positions due to last week's holiday.
B. Metcon
21-15-9
Overhead squats (115/75)
Toes to bar
* From Outlaw CrossFit
C. Cash out
3 x 10 Hollow rocks into Supermans
***
Upcountry rocks Hana Relay
Women's masters team (40+) earns first in division; men's open team takes fourth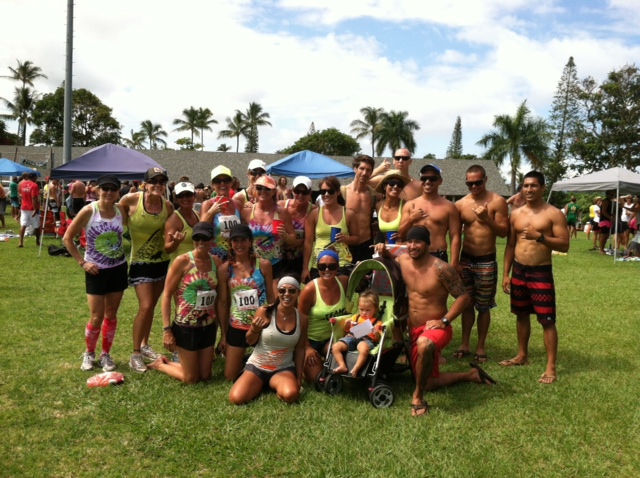 CrossFit Upcountry Maui at finish line

Highlights from the 2012 Hana Relay:
• Master's women take first place, win medals, finish race in about 6 and a half hours.
• Men's open team ranks fourth among 18 in their division; finish in under 6 hours and 30 minutes; and rank 17 out of 203.
• Women's open team completed the race in the 7th hour, with Melissa powering through the notorious leg 13 and Christy speeding through leg 1.
Very official news release on the event:
HANA — In the largest Hana Relay to date, which drew more than 200, six-person teams, CFUM landed top prize in the women's masters (40+) division.
Led by Sheila, team captain, the women blazed through the course and finished in over 6 hours. Andrea, Sheila, Theresa, Lisa W., Erin and Chantel received medals during the awards ceremony.
Typical of the master's team, and often seen during the regular 9 a.m. class, the women were decked out in bright colors and matching socks. It was a blur of color as they sped through the hilly course, followed by their truck that said, "Old Chicks."
CFUM runner Frank Deutsch said he overheard people talking about the master's women during the ceremony, where someone mumbled, "Damn CrossFitters are always so competitive."
If competitive means able to lift heavy and run fast, then we will take it.
For example, not only does Andrea run 7-minute miles on average for longer-distance runs, but she can front squat 200 pounds and strict press 110. Also, despite Sheila's toned, lean frame, she can deadlift over 200 pounds and do bar and ring muscle-ups. The CrossFit teams showed versatility in this nonCrossFit event, where many people have triathlon, marathon and short-distance running backgrounds.
CrossFitters were singled out early in the race by director Joe Alueta, who made comments about the overload of CrossFit teams this year. Maui has six CrossFit boxes on the island; five participated in the 52-mile relay. Not only did the CrossFitters look strong, everyone ran strong, demonstrating that "muscle isn't for show, it's for go."
In other news, the men's team were forced to shuffle teammates in the week prior to the relay due to a cancellation but managed to still pull off fourth place among 18 in their division. Coach Russ, who participated in the relay for the first time, was impressive during the runs, according to Frank, especially because Russ has been training primarily strength. (Russ, who weighs around 160, recently nailed a #305 front squat, thanks to his 5 a.m. strength class).
The men's team, led by Frank, comprised Keaka, Russ, Cory, David C. and Kaipo.
The women's open team, with Diane K., Melissa, Holley, Christy, Nova and Patty (and Kehau, who ran alongside Patty to show support), ran arguably the most fun race of the CFUM teams, focusing more on the costumes, how much sunscreen Nova was wearing, Patty's not-so-hydrating vodkamelon and yelling-slash-cheering for each of the relay runners.
Other CFUM members, including Helena, Ann and Leah, were spotted at the finish line and were accepted back into the group, despite their 2012 Hana Relay disloyalty. There was no sign of Kelly, who was reportedly in a giant Pez costume.
In all, the race was one of the most fun relays in recent history, and it showcased the strength and speed that Upcountry holds. On the rainy drive home, Frank and Kehau marveled at the continually impressive gains in the dusty Haliimaile box (which looks more like a barn) — where people show up to work hard, despite everything that life throws at them. We're proud of you, CrossFit Upcountry!