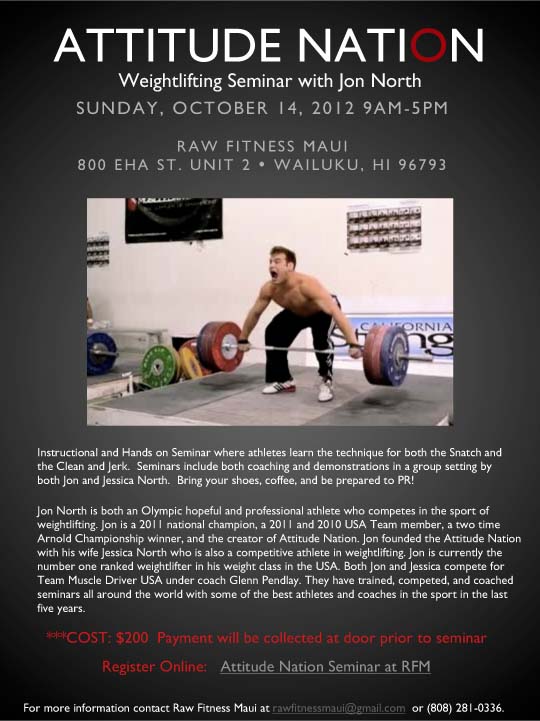 This workshop Oct. 14 is kind of a big deal. I've talked to a bunch of you about it. If you're interested in oly lifting at all, make it a point to attend. Please sign up ASAP.

Here's the workout for Thursday, Sept. 27, 2012:
A. Make up strength / skill
Take the first 20 minutes of class as open gym time. Make up missed oly lifts and skill work.
B. Metcon
For time:
800 meter run
Five rounds of the couplet
5 deadlifts
10 sit-ups
800-meter run
* Deadlift load suggestions will be provided at the gym.
***
No yoga Thursday; class resumes next week
SCHEDULE REMINDER: There will be no yoga tomorrow as our resident yoga badass Ann Van Patten is attending a yoga retreat / seminar. Yoga for CrossFitters will resume next Thursday at 9 a.m.
***
Paleo challenge going strong
PALEO CHALLENGE AND OTHER EVENTS: There are two really big things going at the box right now: the paleo challenge … and Gangam Style dance moves. Both are equally important. All joking aside, below is a very serious video that Kiera sent our way. It's important that we get a CFUM choreographed Gangam Style warmup immediately. We nominate Peter, Mariah and Noah to lead what could be an amazing flash mob.
Now that you watched it, back to the paleo challenge. Everyone is going strong so far, and we've received more than $300 in buy-ins, meaning the winners are taking home some cold cash, along with their hot, new bodies, a reward in and of itself. We received another generous donation for Moana 2.0 gift certificates. The challenge is spicing up!
Intern Craig and I are working on getting some dialogue going about the challenge, and setting up a forum where we can discuss recipe ideas and complain to one another, etc. I think I complained to every class today. Thanks for listening and for the support. Going strict for the first time in a long time is like getting off a drug — heck, it is getting off a drug. And we need our community more than ever. Great work so far, everyone. Stay motivated! The outcome outweighs the current struggle!