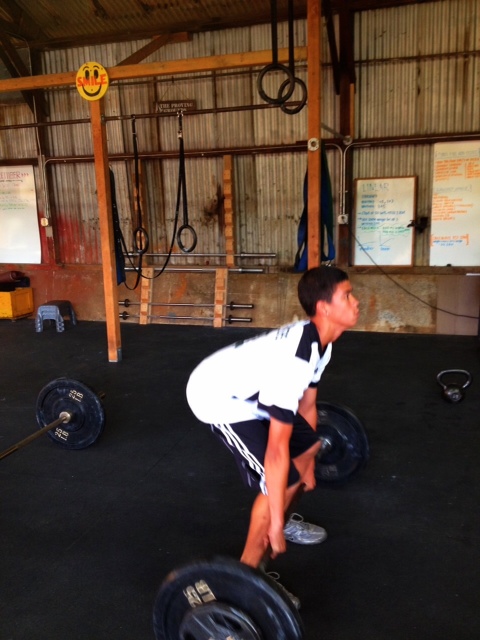 Brock and I talked after the WOD about asking the county to put the fair on hold until the end of the paleo challenge. Who's with us?
Here's the workout for Friday, Sept. 28, 2012:
A. Strength
Clean
Review positions and find your best set of three.
B. Metcon
In 10:00
30 full cleans (135/95)
Then AMRAP
20 sit-ups
10 burpees
5 strict pull-ups
Score is rounds and reps of AMRAP
C. Cash out
3 x 6 rolling pistol squats (3/leg)
Probably the best demo vid I've found yet:

***
Yo. How's your Paleo going?
I've received various SOS texts, and I've sent out a ton of SOS texts regarding our current paleo challenge. We love hearing the recipes, gripes, tips and more. That's one of the most fun parts of this challenge: to have an ongoing support group within our community that's already bonded by daily WODs. We'll have our online paleo discussion group launched by Monday. In the meantime, here's a great recipe by Mariah, who's sent daily paleo pix that look better than some of my best non-paleo day food pix. Keep up the great work everyone!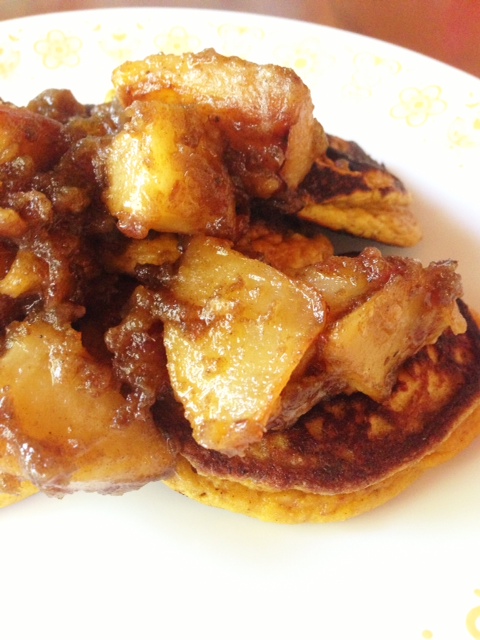 As a carb addict, pancakes are one of those things that I crave every once in a while. But then I go into a pancake coma and want to sleep and feel lazy the rest of the day. These hit the spot and didn't bog me down. — Mariah

PUMPKIN PALEO PANCAKES

1/8 C Coconut Flour
1/8 C Almond Flour
3 Large Pastured Eggs
1/4 Tsp Baking Soda
Dash of Cinnamon
Dash of Salt
Dash of Nutmeg & Clove (optional)
1/4 C Pumpkin Puree (Organic, unsweetened)
1/2 Tsp Raw Apple Cider Vinegar
(you can add some raw honey if you want them to be sweeter)

Combine ingredients and pour batter onto hot skillet with butter and/or coconut oil. These will not spread and bubble like traditional pancakes.

APPLE CARAMEL SAUCE

Peeled Apple, cut into whatever size you want
Good Amount of Pastured Butter (I use Kerrygold unsalted)
Dash of Salt
Dash of Cinnamon

Combine these ingredients in cast iron skillet and let apples cook (cover for steam to cook apples faster)

In a food processor, combine 3 – 4 medjool dates and full fat coconut milk (I used maybe half a cup?)

When the apples are just about cooked through, add your coconut/date mixture with the heat still on. It will make a beautiful caramel sauce.

Pour on top of pancakes and enjoy!!!