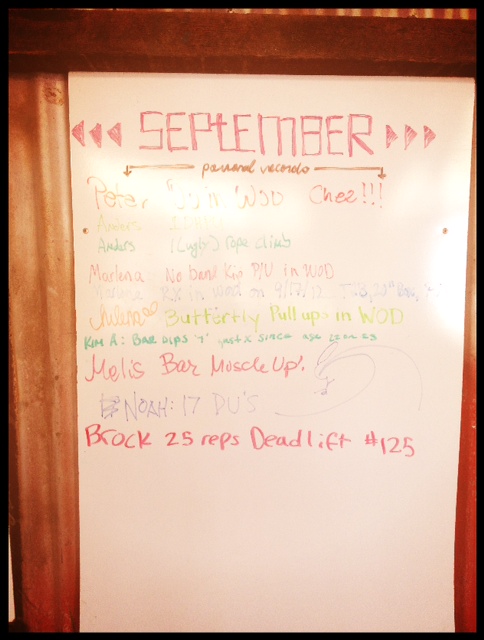 100112 WOD
A. Strength
Back squat – linear week 1
B. Metcon
Four rounds for time:
10 barbell walking lunges (95/65) (5/side)
12 HR push-ups
15 toes-to-bar
C. Cash out
3 x 12 sit-ups on Roman chair
|||—|||
NEW MONTH, NEW STRENGTH, NEW WARMUP, NEW WEBSITE, NEW LOGO, NEW FACEBOOK: There's no lack of excitement as we keep rolling out new stuff at CFUM. Most of all, the community gets stronger and stronger — and we see evidence in your lifts, metcon performance and overall health.
> STRENGTH/WARMUP PROGRAMMING: We finished our oly series and the coaches agreed — seeing your confidence and technique improve in the cleans, snatches and split jerks made all the repetition worth it. Continue to rep the Burgener warm-up and focus on your skill — the PRs will come. We're now headed into two months of linear lifts in the back squat (Mondays), press (Wednesdays) and deadlift (Fridays). Start at 50-60 percent of your 1RM or EST 1RM, and add 10# to lower body and 5# to upper body lifts each week. We are testing all three at the end of the cycle. Remember to make up missed strength work on Thursdays. You'll also find new warm-up movements on the whiteboard. Use your time wisely at the start of class. Consistency is key.
> WEBSITE/LOGO/FACEBOOK: We're stoked. You're stoked. It seems like we're all pretty amped on the new logo. It's always been a source of pride to be from Upcountry — and the community is one that's rooted in the strength of hunters, paniolo, agriculture, farmers and other people and places. We hoped to evoke that in the logo, which was conceptualized by us and designed by Aydin Say of Prison Street Design in Lahaina. Thanks, Aydin! With our new look, we are in the process of revamping the website and launching our Facebook. Craig is handling Facebook posts and we are focused on fine-tuning the site. We've had many of you ask about T-shirts, car decals, mugs, lanyards, the whole nine — and yes, we will have it. We're hoping soon. Thanks for your patience and continued support. You inspire us to work hard and train hard!