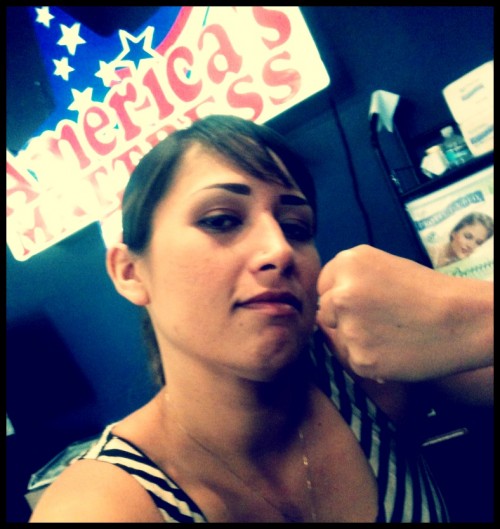 TURNING IN MY SICK NOTE:
Funny story. I was sick today and I got a lot of really kind texts from many of you. Thank you; it means a lot, honestly. One of the texts was from a high school BFF, Leimomi, who is new to CFUM. Our texting started out friendly, and she sent the above photo with a caption that said, "Punch the cold away." I laughed, sent her a few texts. She sent me a few more. And so on. Then we started trading funny photos. By the end of a somewhat long exchange while I was lying on my sick bed at home and she was "working" at America's Mattress in Kahului, we somehow started a text / photo war — the culmination of which led her to boldly post an embarrassing photo of yours truly on her Instagram. My response was, "This means war." Her final text? "Bring it."
So, Leimomi. Here you go. Here's your photo on the CFUM blog. I am returning fire.
On a related note, Leimomi and Steph, who attend 6 a.m. classes, are among two of my dearest friends from our KKHS high school basketball team, which also included Patty. We were often first string, the starters, and Leimomi almost always tipped off the ball. Our coach promised us that we would make it to states, and that "defense wins games." I, being the top defensive player, along with my teammates, soon found that this wasn't true. We didn't make it to states. I needed more than defense because my shooting sucked. And the farthest we went was to Lanai and Molokai for Neighbor Island tournaments. Nonetheless, our coach and those memories are still some of our best high school stories that we retell and exaggerate to this day. It reminds me that being part of a team, like what we have at CFUM, is truly rewarding.
I say this, too, because I want to officially welcome them to the box. BUT I urge you to refrain from engaging in any conversation where they start with, "Did you know Kehau did _____ in high school," or whatever ridiculous stories Steph, Leimomi (or Patty) could dream up. Talks like that will result in burpees.
In addition, we welcome Tiff and Renee, who attend 8 a.m. and 5 p.m. classes. They are also amazing basketball players who we know from high school, albeit a rival one, which will not be named. This can only mean one thing: CFUM basketball throwdown in the near future. We're stoked to have you, basketball friends!
101012 WOD
A. Strength
Press — linear week 2
B. Metcon
In 10:00
Run 400 meters
Then AMRAP
15 hang power snatches (65/45)
30 double-unders
* Score is hang power snatches and double-unders
C. Cash out
Tabata dips
|||—|||
JON NORTH LIFTING WORKSHOP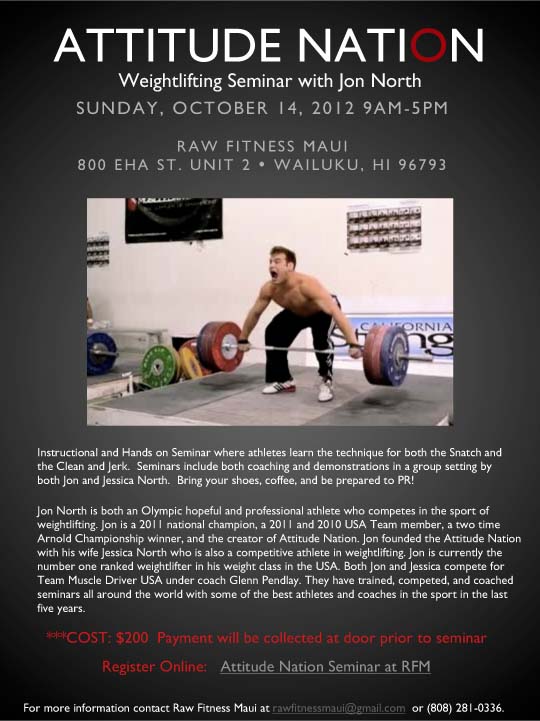 WE'VE BEEN STALKING YOU, TELLING YOU ABOUT ONE OF THE BIGGEST OLY LIFTING WORKSHOPS ON MAUI. WELL, IT'S NEARLY HERE. JON NORTH OF ATTITUDE NATION WILL BE LEADING A DAYLONG LIFTING SEMINAR ON SUNDAY AT RAW FITNESS MAUI IN WAILUKU. DON'T MISS OUT ON A CHANCE TO LEARN AND RELEARN THE LIFTS, SNAG SOME NEW PRS AND HANG OUT WITH LIKE-MINDED LIFTING ENTHUSIASTS. SIGN UP ONLINE WITH RFM OR CALL 281-0336.