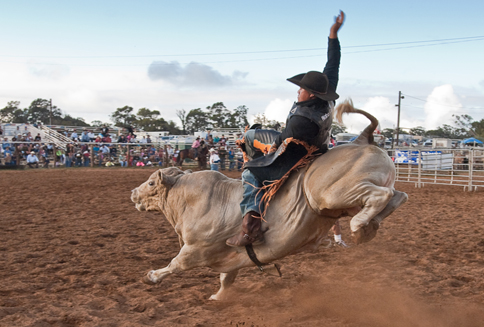 If you make it to the annual Makawao Rodeo this weekend, look for our afternoon athletes Chuck and James, who will be mugging (photo above shows my best friend's husband, Alaka'i, at the rodeo's infamous Bull Bash). Also, Stephanie and her husband, Elias, will be onsite all weekend with their Aloha Kettlecorn. Finally, if you are heading to the Makawao Parade on Saturday morning, our very own, Tiare Lawrence, who's running for State House Representative District 12, is seeking volunteers to march with her #teamtiare: Meet at 8 a.m. on A'ala Street; T-shirts will be given to volunteers. Keiki will blow bubbles and hand out organic lollipops. Please spread the word! 
>> fourth of july class at 8 a.m.
In observance of the Fourth of July holiday, we will have one class only at 8 a.m. Monday, July 4. This is a half hour earlier than our usual holiday classes because it's been hot! Please mark your calendar and have a happy and safe holiday weekend!