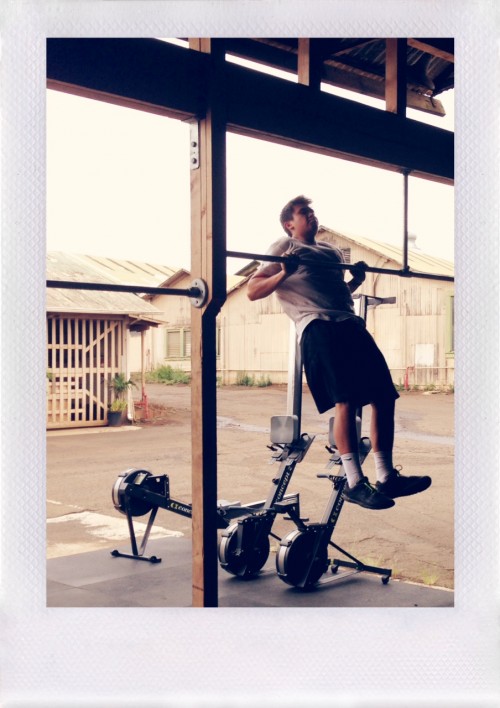 Keiran, Diane's son, is back at school but still killing it on the weekends. Check out his chest-to-bar. Legit!
081114 WOD
A. 4:00 Tabata
Alternating double-unders
Chin-up holds
B. Front squat
3 x 5
Add 10# to last time; if you fail to meet rep requirements, take off 10% next session
C. In 2:30
Sprint 100 meters
30 double-unders
15 toes-to-bar
ME thrusters (95/65)
Four rounds, resting 1:00 between each. Score is thrusters.
>> On-Ramp
In 2:30
Sprint 100 meters
30 double-under attempts / 60 singles
10 v-ups
ME DB thrusters
Three rounds, resting 1:00 between each. Score is thrusters.
|||—|||
UPCOUNTRY STRONG ON LAND, IN WATER



>> Peggy PRs paddling events, wins age group
Peggy King is one of the strongest athletes we have — not because of the weights she uses or the times she posts, but because of her mental fortitude to complete challenges no matter how difficult they may seem. Our CFUM original, who completed the 2014 CrossFit Games Open, trains diligently for her sport of standup paddleboarding; she uses CrossFit and extra instruction with Coach Mary to prep for races and stay in top shape. We were overjoyed to see her work pay off when she landed two PRs this season. Peggy serves as an inspiration to us all. Our community wouldn't be the same without her! Here is her recap of the events:
"Did both Paddle IMUA and Olukai races winning age group and improving my times significantly from last year. Paddled Maui to Molokai solo 27 miles across Pailolo channel. Took 4 hrs, 50 mins- a 40 + min time improvement over last years 5:34. I was the oldest competitor in this event at age 61. Paddled M4M a 8.5 mile benefit race the next day, winning age group and improving my time by 1/2 hour. This may seem braggy, but I believe in addition to my practice in the water, that my work at Crossfit upcountry maui was a contributor to these improvements and I thank you from the bottom of my heart."
To read more about Peggy's SUP accomplishments, click here: Pailolo Power Peggy King.
+++
>> Hawaiian Canoe Club sweeps states
Congratulations to our Hawaiian Canoe Club athletes! Last weekend the club earned the state title during HCRA championship events on Oahu, with the following standout performances: Tiare's team took first place in mixed open; Theresa's crew landed first in mixed 40; Kaikaika and Matt placed 9th in Open 4 Men; and Kacky landed 5th in the masters women's race. Kaika, who's an amazing coach for the kids division, led his youngsters to medals in 12 out of 13 races. We're proud of each of your accomplishments, and for representing athleticism at the gym, at the hale, on land, in the ocean, in your teams, your workouts, your homes, your community! You make Maui a healthier place. Keep up the great work!