It's been a busy week with more trainees in basics classes. Wednesday two brothers, Malcolm and Kawika, began the series. We're expecting big things from these boys!
It's been wonderful having Allen here from the Seattle area! We are truly grateful for the help he is giving us!! Allen will be here through Monday morning.  He just can't understand when we are all complaining about the cold. He says "This isn't cold!"
WOD: "Chief"
3 minute AMRAP of:
3 power cleans (135/85)
6 push ups
9 squats
Rest 1 minute and repeat for a total of 5 cycles
Vince and Ryley attended their first WOD after basics training Tuesday night. These kids are amazing! They definitely take after their moms, Amber and Lisa!
We also have some fabulous newbies starting out in the basics classes this week.
Welcome to Alecia and Danielle! And it is wonderful having Allen's help coaching them!!!
The WOD for Wednesday: 5 rounds for time;
• 400m run
• 10 deadlifts (going off 1 RM chart, select somewhere between your 12 and 15 RM)
• 10 box jumps (only ten! make them challenging!)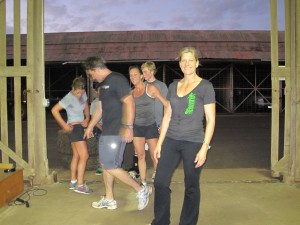 Still less than four weeks post hip replacement surgery, Coach Kaye is back in the game! My WODs have been necessarily scaled to abide by my hip precautions and also for the horribly atrophied legs. It's very humbling but very wonderful all at the same time!
Allen and his wife, Charmaine arrived Monday just in time to help Coach Kaye get another group through the final Basics class.  Thank you so much Allen!  Allen and Charmaine, who just flew in from the Seattle area, will be spending the week on Maui and Allen will be guest coaching as often as we can get him into the box! Allen is the owner of Imperial CrossFit in Kent, WA. We are just thrilled that he is here!
Congratulations to the Basics graduates Patty, Kelsey and Bella!  Nice job!  What a blast we had getting through this final class.  You are now ready for the group classes!
Tuesday's Workout:
Allen will lead us through a warm up of his choice.
We will review and practice the snatch and the hang power snatch.
Then we will practice double unders to get ready for the WOD!!
WOD; AMRAP in 20 minutes:
10 hang power snatch
20 squats
30 double unders
Let's all keep Lyn in our thoughts and prayers this week. She left for the mainland Monday and undergoes surgery on Friday the 10th. Our hearts will be holding you tight, Lyn, as we await your return in January.