Fun ideas to add to your CrossFit WODs To Go lists.
Christie reports everyone is complaining about their sore arms…. so it's time to hit the lower body!
Warm up:  Check white board and get on it!
Skill sets: KB front squats/thrusters
WOD: 6 rounds for time and reps.
KB front squats/thrusters 30-25-20-15-10-5
KB swings 20-25-30-35-40-45
For those who have been hitting the WODs hard this week and complaining about the soreness, please do KB front squats.  Those who need a good hard WOD do KB thrusters and bring up the intensity.
Please help us keep to a tight schedule. Warm ups sometime include practice of the movement we are doing in the WOD or the warm up is very specific to the muscles about to be used. We are laying down the law.  You must arrive on time. Class will start at the top of the hour!  WOD will start before the bottom of the hour. You simply cannot attend the WOD if you haven't done the preparation.
And so begins the first in a series of "As The Hip Heals…"
Numerous people have asked "How long is the recovery?" Well, it's a good question but a difficult one to answer. I will be walking without assistance in a couple of weeks (already doing far better than last time in this department!) But then I will still have a slight limp for another couple months. I've been walking like a penguin since March so that will seem totally normal to everyone, myself included.  I'll be hitting the CrossFit WODs hard in as little as four weeks but will have to scale and eliminate some moves altogether. It make take me months to get back to a point where I feel I can hit the weights hard again.  It's really okay. I plan on focusing on my coaching skills as well as improve my own flexibility issues during this rebuilding period.  As I was being discharged from Queen's Tuesday morning Dr. Kane made me raise my right hand and solumnly swear that I will follow all protocol and not take any risks as dislocating the hip is very possible during the next several weeks.
I would like to take this opportunity to thank the many wonderful friends I have who helped support me through this trying ordeal. Thanks to my new coach, Christie, for coming early and helping me get prepared to leave, then taking charge and running a tight ship while I was gone. To Karen and Amber who were there backing her up everyday. To Sara T. for taking over the website posts while I was in OR and recovery hell. To Carla who met me on Oahu before the surgery and escorted me all around during pre-op day, and then again the first day out of surgery. Carla, thank you for hanging out with a very doped up whiner all afternoon! It was so helpful to have you there!!  To my wonderful husband and son who came to spend the entire weekend with me even though they were definitely "missing it" somewhere out there on the water…  To my wonderful friend Jennifer who came Sunday and hung with me for two days, keeping me entertained until discharged. She helped taxi me to the airport and delivered me to my doorstep.  There is simply no way I would have gotten through that morning without your help and support. And then…. TO ALL YOU FABULOUS WOMEN OF CROSSFIT UPCOUNTRY MAUI  who had beautiful flowers and cards waiting for me when I stepped into the house. The bouquet is so absolutely gorgeous it took my breath away.
Mahalo from the bottom of my heart to the most extraordinary community of women and friends I have ever had in my entire life! I love each and every one of you!
And on with the WOD…. 4 rounds for time:
• 100ft walking lunge with 45 lb plate overhead
• 30 Box Jumps (24″)
• 20 Wall Balls (20lb ball)
10 HSPU
It's a Wendler Strength Day. You are welcome to do your 3 sets of deadlifts before or after the WOD.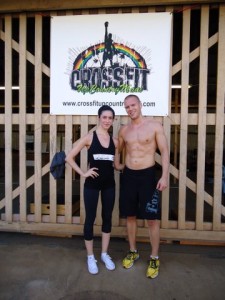 Vancouver!
Seems we have been getting a number of Canadian visitors lately! How fabulous. Undoubtedly escaping the cold, eh? According to Coach Christi; "We had two visitors from Vancouver, B.C. on Saturday,  Shaina Unger and Pete Kendrick. They both worked really hard! Shaina is new to CrossFit but Pete is a CrossFit competitor! Hopefully we will see them again next week!"
WARM UP: COACHES CHOICE
STRENGTH: 20 Rep Squat program! Yes, even in addition to this grueling WOD we will start with our squats! For many this is week three, day one.  Like the Wendler, this is a program of patience. You will work off a low weight based on your 1RM (5RM – 80 lbs!) In eight weeks you will be doing 20 reps of your old 5RM. Don't push ahead. Be patient. If you miss a day do a make up.
"
WOD: For time; "Lumberjack 20"
Be wise and scale appropriately. Remember, it is all relative. High intensity does not mean so heavy you can hurt yourself. Chose a weight that is challenging but doable without stopping to rest. You only do each set once.
20 Deadlifts (275lbs)
Run 400m
20 KB swings (2pood)
Run 400m
20 Overhead Squats (115lbs)
Run 400m
20 Burpees
Run 400m
20 Pullups (Chest to Bar)
Run 400m
20 Box jumps (24″)
Run 400m
20 DB Squat Cleans (45lbs each)
Run 400m