It's been a terrific week so far with eleven off island visitors to our box! Wednesday we were joined by Jim, Jen, Lauren and Nick, all CrossFit'ers from Philadelphia. They just happen to be staying down the street at Peace of Maui Bed and Breakfast run by one of our own, Tammi Cadman. Tammi mentioned she was off to the box and they were jazzed to learn there was a CrossFit less than a half mile away!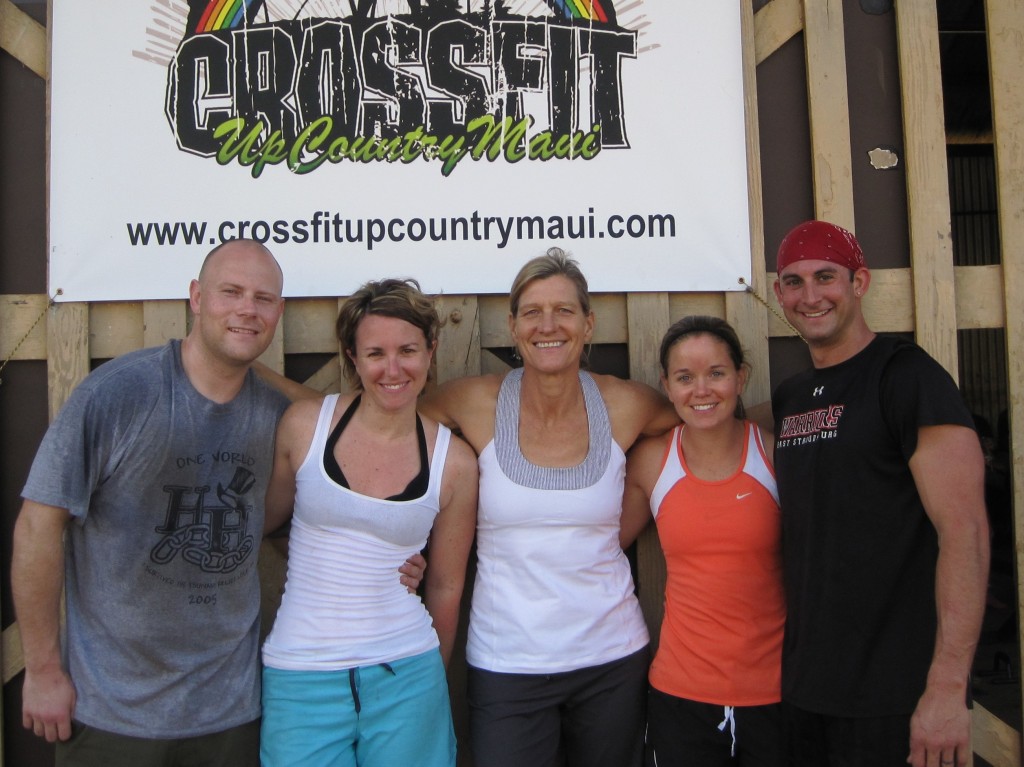 Another visit by our Snohomish friends, Whitney and Charlie, this time with the new bride, Renee (opps, somehow she got away without getting in a photo. Trust me, this chick was tough!)  We are going to miss you guys!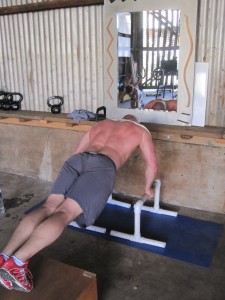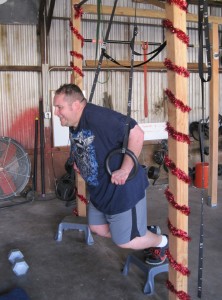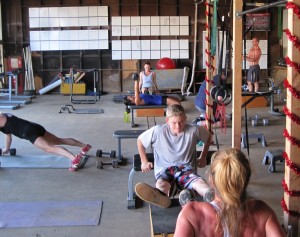 So with all these people coming from places like Philadelphia, London and Snohomish, the talk has often drifted to "snow."  So today we are going to do some virtual shoveling! I'll leave the rest to be a surprise.  Bring your jump ropes.
It appears by the crowds at the box that everyone is starting their new years resolutions early! And I am sure that after Wednesday's WOD none of you will be bitching about your legs anymore!  Yep, here comes one of our favorite upper body blasters!!
But first a couple of announcements.
• Don't forget about the drawing this Friday at 9:00 AM! You could win a $100 gift card to lululemon!
• NEW CLASS starts next week! Wednesday's at 5 PM!
• Paleo Challenge starts January 1st. For those who wish to participate we will weigh in and measure. If you need great recipe ideas don't forget to check out the link on the left. This Foodee site is fabulous!!! I'm going to do it too, but I am NOT giving up the cream in my morning coffee. You guys would not want that, trust me.
Tuesday was another exciting day at the box with FOUR visitors! I felt extremely honored when the owner of Thames CrossFit in London, England, showed up for the 8:00 AM class.  Jason, who is here vacationing with his wife and parents all the way from the UK, brought his mother along, Nancy, who works out at CrossFit Vallejo in the east San Francisco bay area.  It was great watching Jason take Nancy through more skills after the WOD.  At 9:00 AM we were graced with two Oahu CrossFit'ers, Kinau, from HardAss Fitness, and Christa, from CrossFit Oahu. Yep, those gals are getting some great coaching alright! It was wonderful having you.  Welcome all and mahalo for coming to CrossFit UpCountry Maui!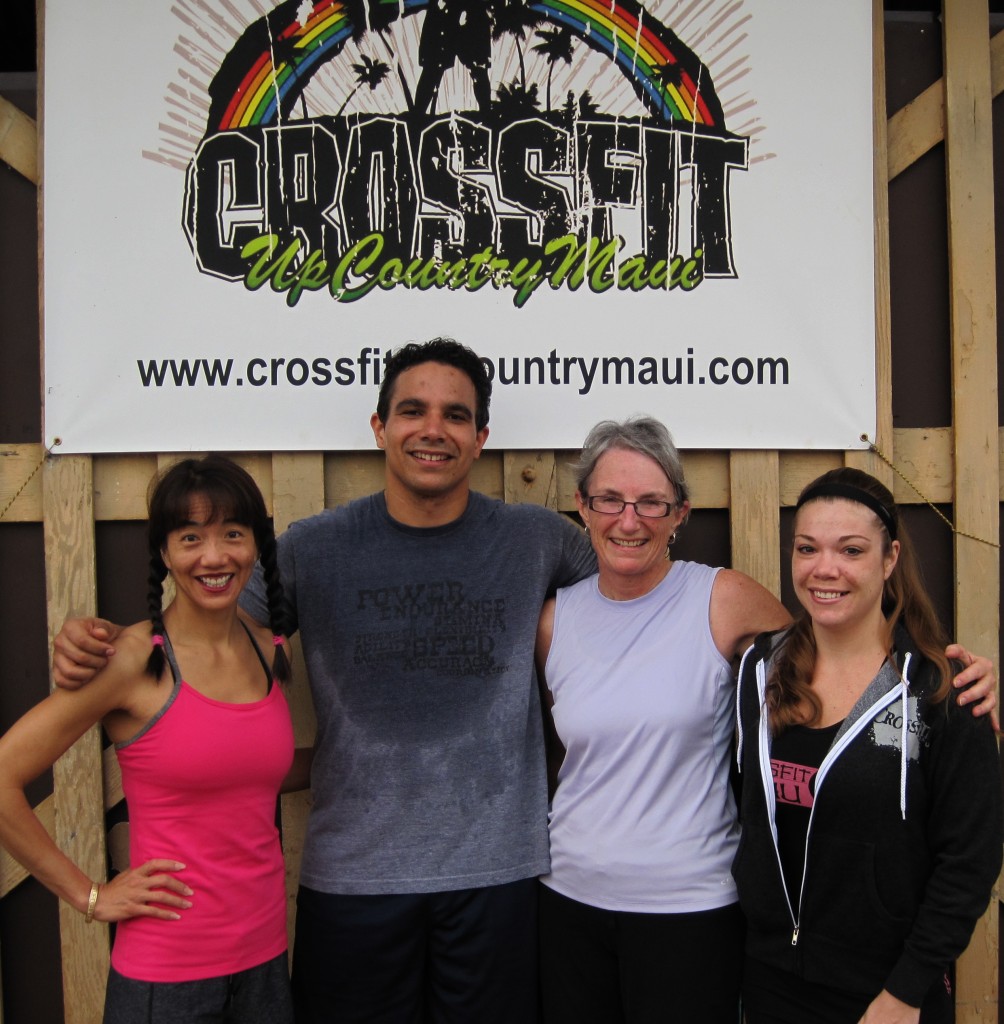 From left; Kinau, Jason, Nancy and Christa
So…. sore legs? Be careful what you whine about.
Wednesday's workout:
Greg Amundsen warm up, then 3 rounds of:
100′ waiters walk (switch arms after 50′)
15 GHD back extensions
The WOD; 4 min AMRAP, 3 minute rest between rounds. Repeat for a total of four cycles;
10 ring dips (or dips)
10 true push ups—set up a box jump that is parallel to a set of paralletes.  Feet on box and do push ups with chest breaking the plane of the paralletes. (Or regular push ups)
10 DB bench presses (35/25)
Remember the first time we did this WOD and someone said "We don't need 3 minutes of rest between rounds!" Then after the second round everyone was asking "What happened to my arms?!?" And again, you can thank Jor for this one!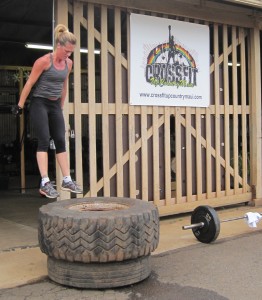 We got to sing Happy Birthday to Lisa Tuesday morning.  She is not getting older.  She is getting stronger!
She is making these 30″ tire jumps look so easy!
So much for New Years Resolutions! It was so great to see the masses turning out today.
We have a lot of new things coming in the new year… more classes…. more equipment…. more clinics…. retesting in all the major lifts for a new 1 rep max…. and more new members!  The next Basics class will be offered the week of January 10. Please contact us for more information.
A huge welcome back to Charlie from RiverTown CrossFit in Snohomish, WA. And Monday he brought his brother, Whitney, who is responsible for Charlie getting into CrossFit last April. Since then Charlie has been doing four CrossFit classes a week and following a moderate paleo diet.  Today Charlie is 90 pounds lighter than when he started last spring. Way to go Charlie! And Whitney came out to get good and gassed on his wedding day! Whitney's ceremony was scheduled for Monday on the beach in Wailea at sunset. Congratulations Whitney!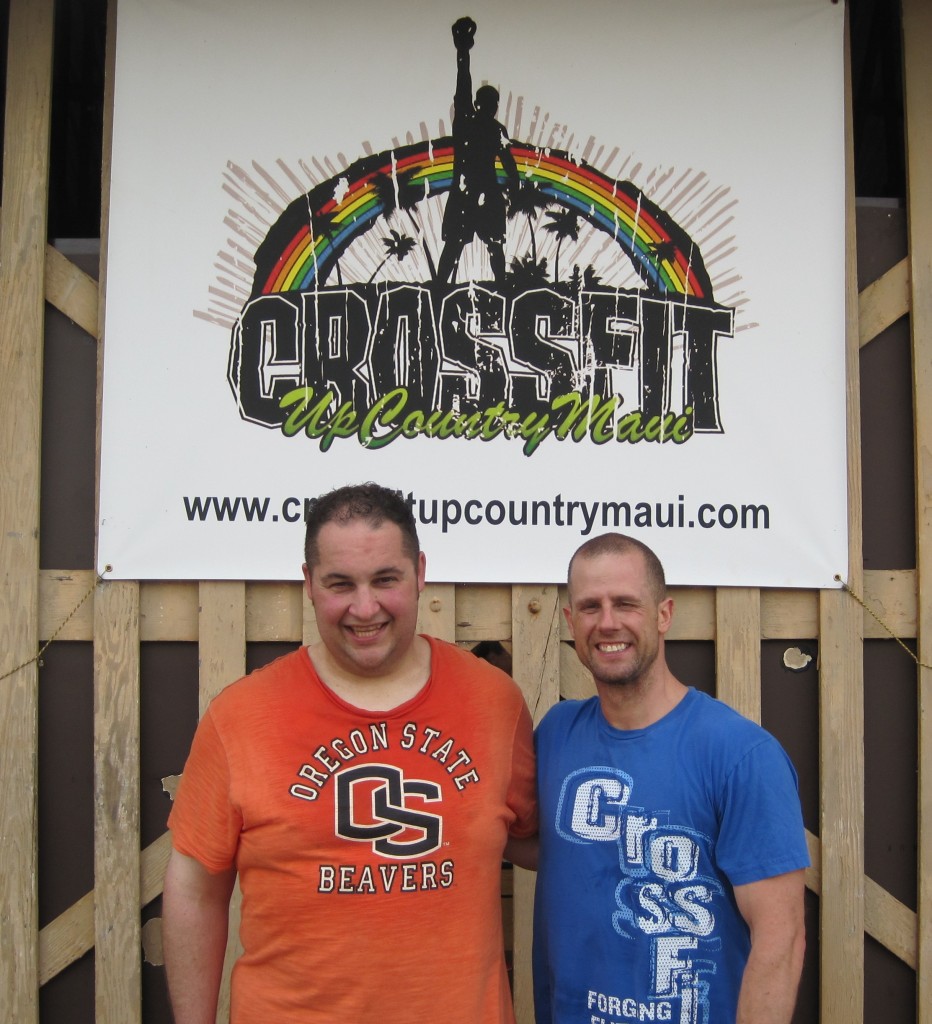 Workout for Tuesday:
Warm Up;
5 "Man On Fire" burpees. Wait till you see these! And yes, you can thank Jor for them!!
Then 3 rounds of: 5 dead hang pull ups & 5 ring dips
WOD: 10-9-8-7-6-5-4-3-2-1
100m sprint (between rounds)
deadlifts (75% of 1RM)
box jumps (challenge yourself with a 24″ or the big tire if you can!)