For those of us who overindulged this weekend, it's back to grindstone! And won't it feel good!
Burgener Warm Up, getting these points down to memory!
-down & up
-elbows high & outside
-tall muscle snatch
-jump & land
-behind neck push press
-pressing snatch balance
-heaving snatch balance
-overhead squat
-hang squat snatch
WOD: AMRAP in 15 min;
15 wall balls
15 KB swings
Rest 5 minutes
AMRAP in 10 min;
10 GHD sit ups
10 bottom to bottom squats
Thank you for the sandbags! Tough WOD Thursday but everyone enjoyed the new challenge!
Just a reminder…. the box will be closed Friday and Saturday. Merry Christmas to all!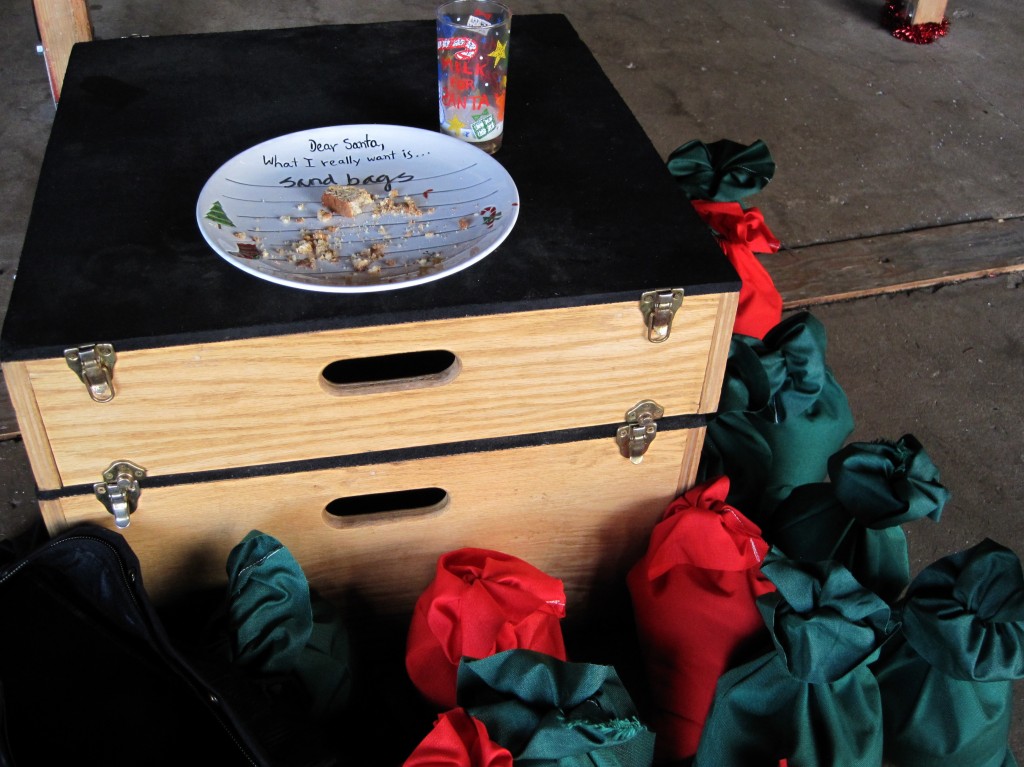 Some of the 8:00 and 9:00 AM classes getting into it!
Welcome guests both morning and evening classes!
Charlie joined our 9:00 AM class from RiverTown CrossFit in Snohomish, WA and Sam attended our evening WOD from nearby Hilo on the Bid Island, CrossFit Big Island. Charlie started doing CrossFit last April due to concerns about his health. Since then, following the paleo diet and attending an average of four CrossFit classes a week, Charlie has dropped 90 pounds! His story is incredibly inspiring! We will be seeing both of these gentlemen all week next week! Welcome!
REMINDER! THE BOX WILL BE CLOSED FRIDAY AND SATURDAY!
HAVE A VERY MERRY CHRISTMAS!
What a great day at the box Wednesday. Awesome job on Daniel everyone!  Fabulous efforts by those who did the WOD at Rx'd! A huge welcome to our guests Paul and Paula from CrossFit Seattle, which happens to be the very first CrossFit affiliate! And what a hilarious white elephant gift exchange party! The Rustic Nut Bars were a huge hit. Pick up the recipe at the box.
So it appears even Santa has been doing some WODS and following the paleo diet. We will again be doing the paleo challenge starting January 1st for all those interested in eliminating junk from your diet and leaning out! More details to come…
Santa also brought an early delivery! We now have sandbags! And you bet we are going to use them in the WOD!
Thursday's Workout:
Warm up; 3 rounds:
100′ walking lunges
10 push press
10 push jerks
WOD: AMRAP in 15 minutes:
Sandbag Complex:
• Sandbag crossbody shoulder x 5 left
• Sandbag shoulder lunge x 5
• Shoulder to shoulder push press x 5
• Sandbag crossbody shoulder x 5 right
• Sandbag shoulder lunge x 5
• Sandbag carry 100′