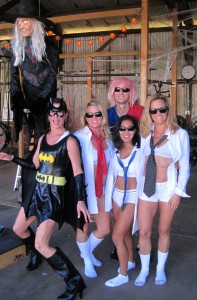 The 9:00 AM group got the most raves with some fabulous costumes!  The Risky Business Trio was a riot! Thanks guys for getting involved in the fun!
Saturday's WOD:
Warm up:
• DROM stretches
• Skill work: the squat variations
Strength series: Back Squat and make up for missed sessions
WOD: AMRAP 20:min of:
200m run
10 wall balls
10 GHD back extensions
10 K2E
Have a safe and happy Halloween.  Our love and aloha go out to Lyn S.  Your CrossFit family here is holding you in our thoughts and prayers.
Yes, that is Tabatha. Tabatha the witch.  She is the evil sister of Tabata.  And she has a devilish wicked WOD planned for you.  It's worse than Fight Gone Bad.  It's going to be bloody. You're gonna scream. Then it gets very, very dark.
"Hello, you okay?" It's Halloween Party Time!
SPOOKY MUSIC • CANDY (yes, really!) • COSTUME CONTEST & PRIZES! • AND A WOD:
This is a stations workout much like alternating tabatas, but we are doing one minute rounds like Fight Gone Bad.  Sorry, that's all you get to know.

The Haunted Box is just about ready for the big Halloween Bash Friday! Don't forget, party and costume contest 8:50 to 9:10 so both 8 and 9 AM classes can participate. Suggestion, make sure you can sweat in your costume!
Warm up: 3 rounds not for time:
5 dead hang pull ups
5 pistol squats (each leg)
Mobility stretch drills
WOD; 7 rounds for time:
• 100m run
• 5 power snatches
• 10 push ups
• 15 wall balls