Class sizes are staying consistent despite the busy holiday schedules. Way to stay on track everyone! Incase you didn't see the flyer by the sign in sheet we are giving you even more incentive to stay the course. Every time you come in and do a WOD between now and the end of the year your name will be entered into a drawing for a $100 gift certificate to lululemon! Drawing will take place at 9:00 AM Friday, December 31st at our New Year's WOD party! You do not have to be present to win.
Wednesday's workout:
Warm up: 3 rounds not for time;
5 dead hang pull ups
10 wall balls
15 GHD sit ups
20 GHD back extensions
WOD; 15 minute AMRAP
10 deadlifts (body weight or 12-15 rep max, which ever is heaviest)
10 burpees
Allen boarded the plane Monday afternoon and we are already feeling the void.  We are all certain he will miss us too and come back sooner than later (right Allen?!?) Not only did we totally benefit from his awesome coaching but from watching him kill the WODs as well!
Welcome back Jiian from CrossFit Vancouver, B.C.! Great having you at the box again Monday! See you Wednesday!
Allen's fabulous coaching helped Riette and Jessica power through Monday's WOD!
Coaches Karen, Christie and Allen power through the WOD at Rx'd as well as Lisa, far right.
Tuesday's Workout:
20 rep squat program (add 5 pounds to your last week's set.)
WOD; Barbara! 5 rounds for time (or scale to 3);
20 Pull Ups
30 Push Ups
40 Sit Ups
50 Squats
Rest 3 minutes between rounds (using Clock Gone Bad!!) Add times from each round to get a total time.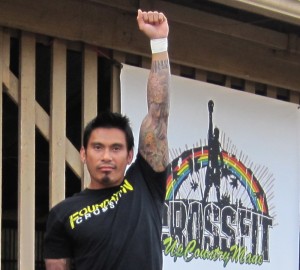 Today will be Allen's last morning with us and we are all so sad to see him go! It has been truly wonderful to have the great coaching and the friendship as well! Allen, you are a gem! We will welcome you back anytime!
We have five new basics grads ready to join the group classes.  This is a remarkable bunch! They all looked as though they have been oly lifting for months. Great job everyone! And welcome to the box! From left: Coach Christie, Danielle, Alecia, Malcolm, Kawika, Coach Kaye and Dmitri.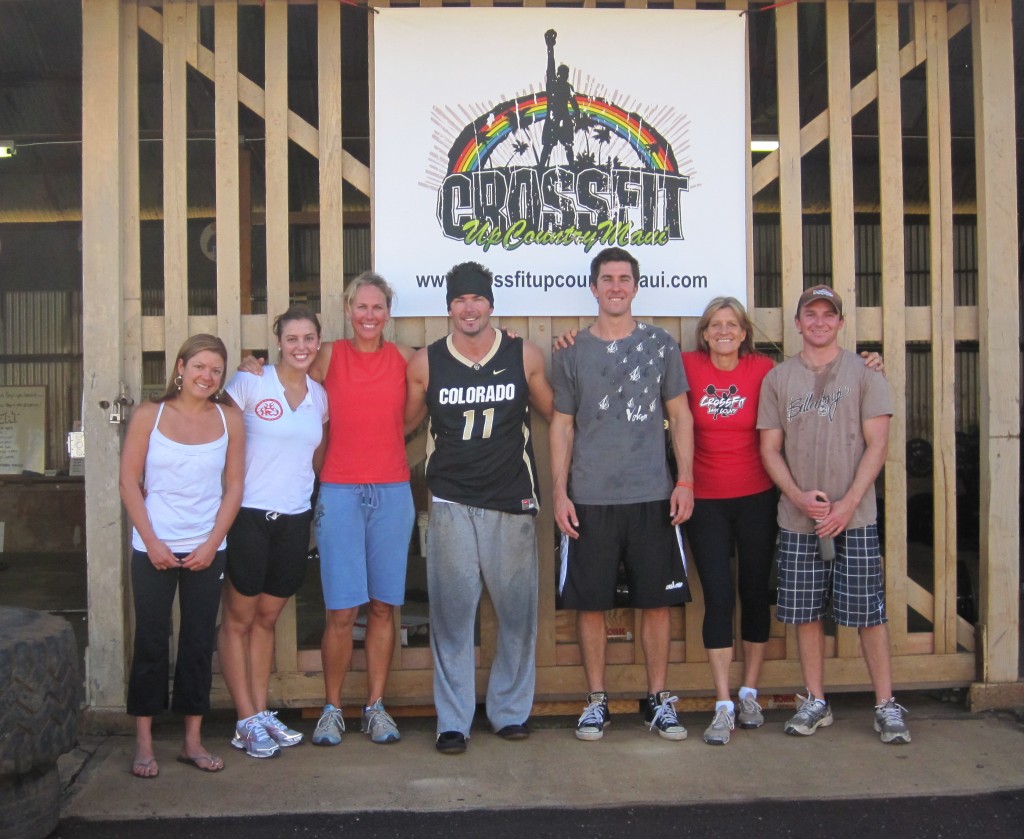 Warm up: "Allen's Special"
Bear crawls, broad jumps and burpees!
WOD: "Allen's 7's"
7 rounds for time:
7 SDHP (95/65)
7 Power cleans
7 Push Press
Using the same bar the goal is to go from one movement to the next without putting the bar down.  If you need to stop and rest, try to do so between rounds.  Yes, you can thank Allen for this one!