Mahalo to Omid Khalili from DogTown CrossFit in Culver City, CA, for joining one of our morning WODs! We love mainland visitors. Nice job Omid! Stop in anytime!
WOD: "Brutal Baseline" For time; Here's one for your log books! Get ready and set a benchmark time! Have fun!
400m run
40 squats
30 sit ups
20 push ups
10 pull ups
800m run
10 pull ups
20 push ups
30 sit ups
40 squats
400m run
A huge welcome to Tamara and Clark from Tamalpais CrossFit. They just happened to come in time Tuesday to christen our new sign by being the first ever photographed with it. Wonderful having the both of you. Good luck in the Hana Relay!
For Wednesday… One of our favorites, "Linda" aka "Three Bars of Death."
10-9-8-7-6-5-4-3-2-1
Deadlift (1.5 times body weight)
Bench (body weight)
Clean (.75 times body weight)
If you don't feel like you got enough deadlifts, by all means stay do your Wendler strength session!
Congratulations to our very own Coach Karen
who paddled the 18 mile Lili'okalani race on the big island Saturday. Karen stroked the entire race and her 6-man outrigger canoe team came in 7th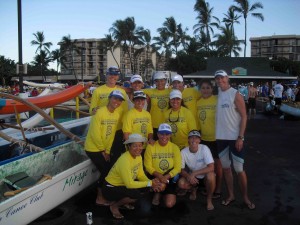 overall! Way to go Karen! On Monday she joined a crew who paddled the Alenuihaha Channel from the big island to Maui, 70-some miles. Karen, you deserve some rest days!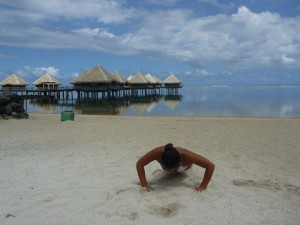 Where is Linda?
She hasn't been to the track in weeks! Cuz… she's doing her WODs in Tahiti!  Wouldn't THAT suck.
Tuesday's workout:
Warm up: Bleachers, mobility drills and hill repeats
WOD: 5 rounds for time;
5 DB squat thrust cleans
10 pull ups
DB Squat thrusts: Holding dumbbells, do a burpee without the push up. Then instead of the jump up, do a DB squat clean.