Don't miss the fun! Today we will cheer the athletes through the first round of the Open Games!  Of course everyone gets a shot at the WOD but we will video our participating athletes after the group completes the workout.
CrossFit Games Open
Complete as many rounds and reps as possible in 10 minutes of:
30 Double-unders
15 Power snatches
The Power snatch loads are as follows:
Men and Masters Men 45-49, 50-54: 75lbs/35kg
Women and Masters Women 45-54: 55lbs/25kg
Masters Men 55-59, 60+: 65lbs/30kg
Masters Women 55-59, 60+: 45lbs/20kg
So much going on… and it will be easier if you are wearing green.
St. Patricks's Day WOD;  TBA
First I would like to wish my original CrossFit partner, Lee Poston, a very happy birthday. Lee and I started CrossFit Central Maui together in early 2009. Lee owns and operates Maui CrossFit Extreme and still operates at the coveted Maui Memorial Stadium. It's the perfect venue for downtown CrossFit classes. Lee is Maui's BEST physical therapist.  Nova, one of our earliest members, has been seeing Lee for a reoccurring back injury and is doing beautifully thanks to Lee's specialty in spine therapy. Happy Birthday Lee!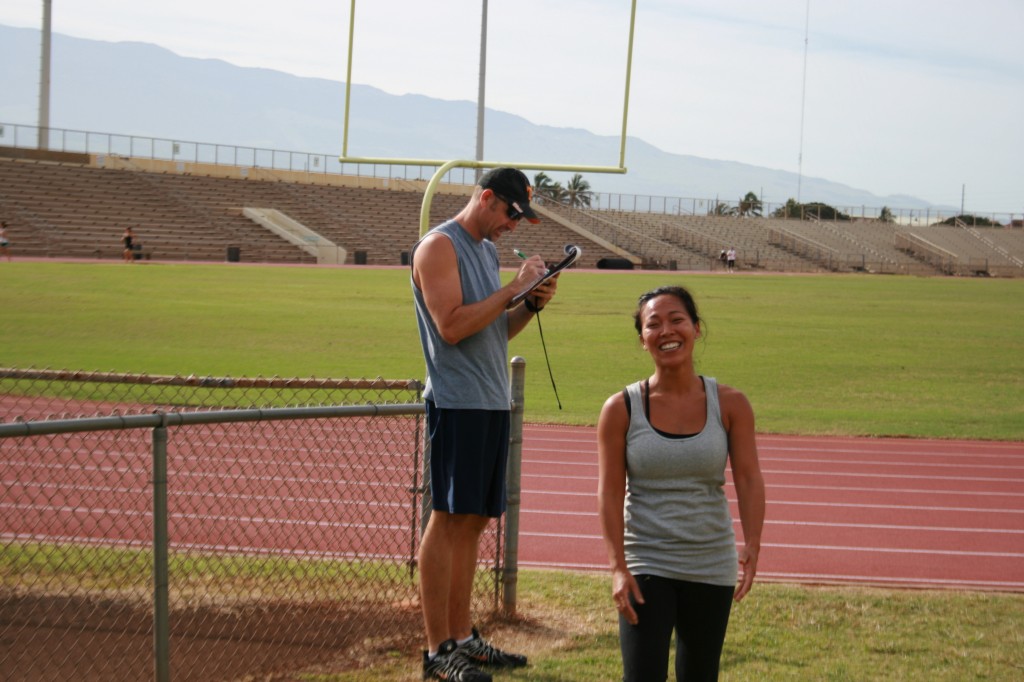 Secondly, we have many exciting events on the horizon at CrossFit UpCountry Maui. Our "Virtual Coach" Jor will be visiting and helping at the box in April. Jor is working out at Freddy's Box in Union City, CA. Jor raves about Freddy's programming and continues to share the knowledge.
Thirdly, we have THREE athletes now competing in the Open Games, Andrea, Coach Christie (sprained ankle and all) and Allison, a true CrossFit Beast! The first weeks WOD has been posted. Check it out at  Open Games
Meanwhile… at our box, it's a heavy Met Con day.
5 rounds for time:
200m double dumbbell carry run
10 dumbbell box jumps
10 dumbbell burpees
Time to bond with the dumbbells, baby!