Winning doesn't always mean being first.
-Bonnie Blair
After a quick warm up we worked on overhead squats. I'm impressed at how far everyone has come in such a short time.
Then the WOD, 7 rounds for time
7 pull ups
7 OH squats
7 box jumps
7 medicine ball cleans
7 push ups
Just a reminder, we WILL be meeting Monday and Wednesday at 8 and 9 AM in the garage, but only Tuesday this week at the track. See you there! Anyone have Christmas cookies to work off???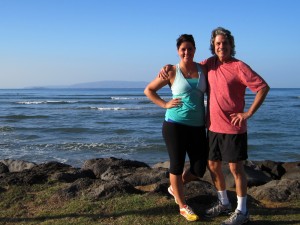 Bill and Nicole are visiting from Northwest CrossFit in Seattle. This morning they had a private class on the beach in Kihei under perfectly clear blue skies.  They didn't mention anything about missing the cold….