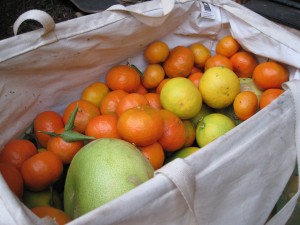 AMRAP in 20 minutes…
10 Ball thrusters,
20 walking lunges,
10 sit ups
200m run
Then pick as much fruit as possible in the remaining time!
Wow, thank you Angie! We are all so grateful for the bounty!
Welcome Joana and congrats for finishing Basics.  See you in the group classes next!!!
Another 1RM day!
Getting 1RM deadlifts for the board.  Great job everyone. Now, where did I put the list….
Celebrate what you've accomplished, but raise the bar a little higher each time you succeed.
-Mia Hamm
A friend forwarded this video which provided us all with great inspiration to get through today's WOD.
WOD: 5 rounds for time:
shuffle run
12 thrusters
12 OH walking lunges, each leg
12 sit ups
12 box jumps
Welcome back Karen! Welcome newcomer Eric (who was drug there by his wife Lisa!) Go Sheila, Go Buzzy!