AMRAP in 20 minutes
10 pull ups
10 push ups
10 sit ups
10 medicine ball cleans
50 double unders (sub singles)
Nice work everyone.
Welcome to Amber and congrats for getting through her first Basics class today!! There will be no class tomorrow at the track as I will be hosting a private class for visitors in Kihei. Due to the holidays and our busy schedules, I week will be conducting only one class next Monday and Wednesday at 8:30 AM in Haiku. Our regular 9:00 Tuesday class is at the track but there will be no class Thursday the 31st.  Mahalo and have a wonderful holiday all!
Helen
3 rounds for time:
400m run
kettlebell x21
pull ups x 12
Welcome Bill and Nicole from Seattle!!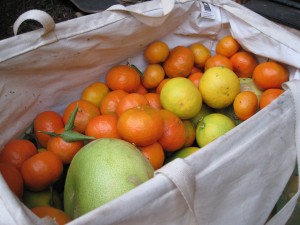 AMRAP in 20 minutes…
10 Ball thrusters,
20 walking lunges,
10 sit ups
200m run
Then pick as much fruit as possible in the remaining time!
Wow, thank you Angie! We are all so grateful for the bounty!
Welcome Joana and congrats for finishing Basics.  See you in the group classes next!!!