"

Belief

is the thermostat that regulates all success." – Anonymous
Thought you might like a little extra inspiration for today, other than that awesome quote. Are you doing Fran down at the track with Amber? Here is
CrossFit New England
owner/coach Heather Keenan doing Fran in less than 3 minutes! To review, "Fran" is:
21, 15, and 9 reps of Thrusters (prescribed weight 95 lbs) and Pull-ups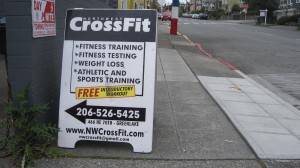 We hope everyone is enjoying their weekend. As you know, Coach Kaye is enroute to Bellingham, Washington where she is with Nathan (from Northwest CrossFit) attending a kettlebell cert at CrossFit X with Jeff Martone. Kaye hilariously posted to our Facebook site that she showed up in shorts and a t-shirt and then remembered: "Oh yeah, I'm in Seattle". She then quickly changed into leggings!
Speaking of Northwest CrossFit in Seattle, here are a few photos from Kaye's WOD with their team.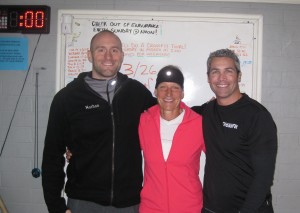 She did a workout with them on Friday called "Daniel".  50 pull ups, 400m run, 21 thrusters, 800m run, 21 thrusters, 400 m run, 50 pull ups.  She says it was an awesome WOD.
According to Kaye: "I'm so jazzed to be here in Seattle, doing the "drive by" where I used to live and reminiscing about the good old days of college! I'll keep live updates coming."
Kaye will continue to report from the kettlebell certification and I'm sure we'll be seeing more photos! So keep looking out for more.
We hope you got your MetCon in yesterday, and today is Sports Sunday (get out there and do a sport you enjoy). Or maybe you were at the Fran WOD at the War Memorial Stadium track this morning?
Either way, let us know how your weekend is going!
"I find that the harder I work, the more luck I seem to have" – Thomas Jefferson
Who knew that Jefferson was into CrossFit? (Sounds a lot like "intensity equals results" to me!)
Today's WOD is "Jumping Jackie".
1000m equivalent (jump rope)

Thrusters (#45) – 50 reps

Pull Ups – 30 reps
See you at the box!