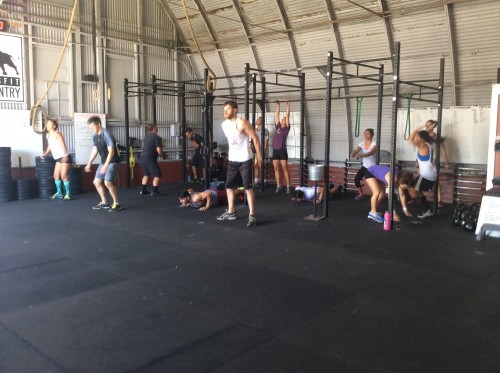 Congrats to everyone who PRd on Cindy! She's always a little spicier than she seems. We have some new records for the benchmark board: Tiare had 21 plus rounds for RX females, and quite a few men, including Kaika, Matt and Brett, had 18 and 19 plus rounds. Way to raise the bar, CFUM! Your reps were legit!
041914 WOD
A. Group warmup
B. Stretch
C. Workout TBA at the box — it's going to be a good one (weather permitting)!
|||—|||
SUSPICIOUS FOOD GROUPS
Below the coconut waters are some of the coaches items that were in the fridge Friday night. Contents include: A) iced coffee B) Cliff Builder's Bar C) bag of blueberries and D) Starburst. Correctly match the foods to the coach and receive a prize. (Hint: One coach has two items; there is only one item tied to a female coach; and many coaches listed below don't have any foods in storage).
- Frank
- Kehau
- Mary
- Jason
- Toby
- Allison
- Josh
- Holley
- John