Here's the workout for Monday, July 30, 2012:
A. Strength
Front squat – linear week 5
B. Metcon
"Fran"
21-15-9
Thrusters ( 95 / 65 )
Pull-ups
You knew a week ago that this was coming — so show up, tape up, chalk up and get a new Fran time! (If you got through last week's Cayenne Fran, this is going to be a breeze, sort of like jogging through a soft, grassy pasture in Haiku, during a gentle mist. OK, we won't go that far, because yes, it's still Fran. But approach this WOD knowing that you've gotten through harder workouts, and it's over in a matter of minutes. Have fun with it, and happy Monday!)
***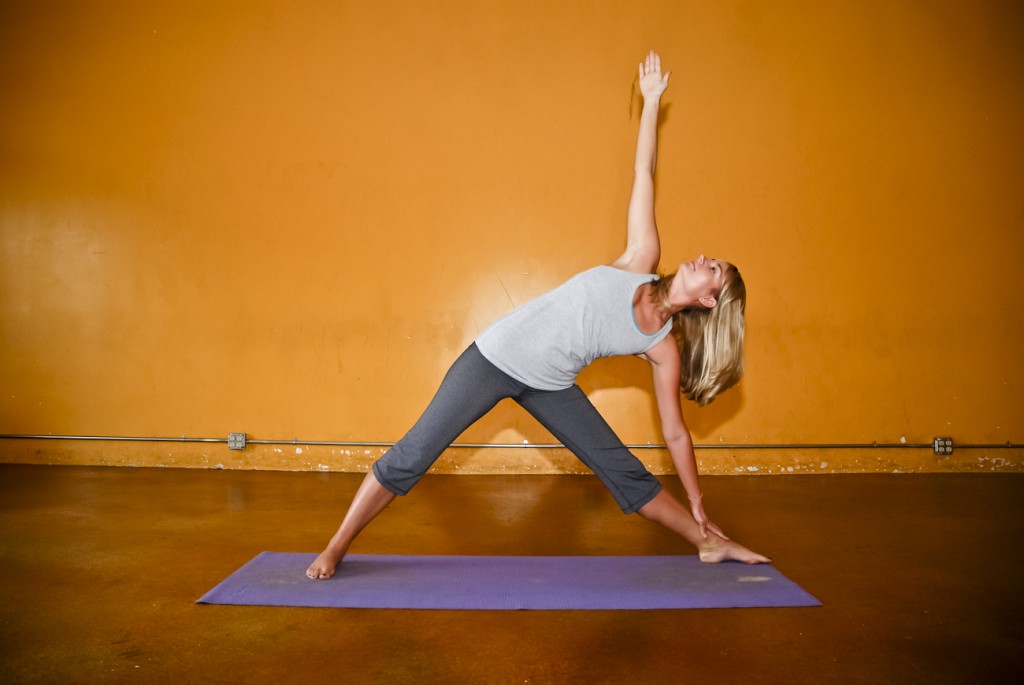 Haiku resident Ann Van Patten, CrossFitter and certified yoga instructor, balances two practices that some categorize as polar opposites
Yoga comes to CFUM in August!
THURSDAY YOGA CLASS STARTING THIS WEEK! We're stoked to announce that Ann Van Patten, certified yoga instructor and CrossFitter, will be teaching a one-hour CFUM yoga class at 9 a.m. Thursday, starting this week. Ann's yoga enhances our three-on, one-off schedule at CFUM, where Thursday is a rest day or a make-up day with classes at 8 a.m. and 5 p.m. Ann will teach weekly at 9 a.m. Thursdays through the month of August, so make yoga a not-to-miss session.
MORE ABOUT ANN: Ann has been a practicing and dedicated student of yoga for 10 years. She completed the Teacher Training and Extended Studies Program with Core Power Yoga in 2007-2008, as well as continuing her development and practice through workshops like YogaCalm, Integrated Movement therapy, AcroYoga, Darren Main and Maya Yoga. Besides her work as a licensed marriage and family therapist, she teaches yoga weekly at Upcountry Fitness in Haiku.
WHY YOGA AND CROSSFIT? Yoga, a great complement to CrossFit, helps restore and cultivate balance, agility, flexibility and mobility. Without those things, your powerlifting, Olympic weightlifting, gymnastics and the variety of other CrossFit-included movements will be lacking, not to mention, there will be gaping holes in your overall fitness. So think less of any subcultural stigmas surrounding yoga and more of the restorative factors in the age-old stretching, elongating and mobilizing techniques. Make yoga part of your CrossFit routine and see your performance improve!

Read more about the importance of yoga integration in CrossFit with a previously posted article from CrossFit Invictus: Yoga is the Yin to Your CrossFit Yang
Here's one from interviews from CrossFit and yoga practitioners, one being a Hawaii affiliate owner: CrossFit and Yoga
Here's an article from 2010 CF Games winner Graham Holmberg interviews on the importance of yoga and CrossFit (must have a Journal subscription to read): Graham-Om-Berg
***
2012 HANA RELAY FRIENDLY REMINDER: Just today and Tuesday are left to secure your spot on the 2012 Hana Relay CFUM teams. Bring $40 cash to cover your Valley Isle Road Runner race fees. This will be an event that you'll hear about for the rest of the year. Don't miss out!
***
RANDOM REMINDER: Are you watching the 2012 Olympics? Set your DVR to record the Olympic weightlifting events. Frank and I have been screaming at the TV screen all weekend. CrossFit has helped increase the popularity and visibility of Olympic weightlifting, but there's nothing like watching lifetime practitioners and masters of the snatch and clean and jerk. It's only when you're hurling the weight overhead, praying that your technique and strength is in tact to keep it from crashing down on you, that you catch a small glimpse of what these experts must endure to lift heavy. It's chicken-skin stuff, for sure!