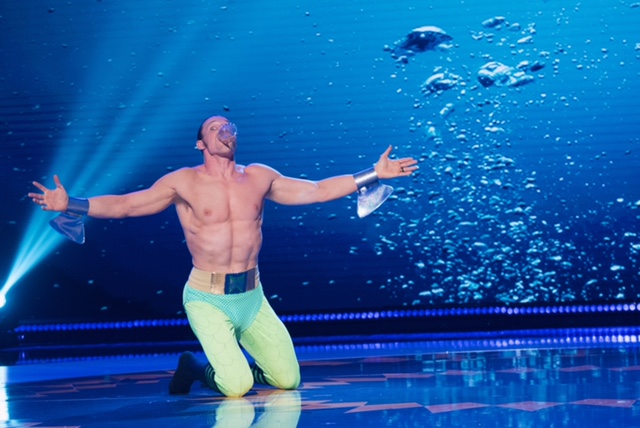 "THE GONG SHOW" – See David's debut tonight at 9 p.m. HST on ABC
DAVID + CJ GOING AWAY PARTY – Saturday around 4 p.m.; contact Kehau or Frank for details
LAST DAY ON MAUI – Wednesday, August 2
LAST DAY AT THE BOX – Wednesday, August 2?
LOTS OF HAIR, LOTS OF HEART
HALIIMAILE — Abs. Jorts. And lots of golden locks. No, we're not talking about Jessica Simpson — we're discussing celebrity CF Upcountry coach David Mullins.
Our friend will be featured on "The Gong Show," airing tonight (Thursday) at 9 HST on ABC. David was discovered months ago via Instagram by "The Gong Show" executives; he agreed to be featured on the show for a unique talent that will be revealed this evening. The primetime series highlights outstanding, and strange, performances that are evaluated by a panel of celebrity judges.
You may have noticed David around the gym since his May arrival with wife and traveling physical therapist CJ. The dead giveaway man bun and get-to-know-you group questions are some standout qualities that have made David special to us. CJ's equally friendly demeanor, coupled with an insane level of fitness, established her as a great person to get to know.
What you may not know is that David and CJ strive to create community wherever they go. Originally from Texas, the couple has traveled to Seattle, Oregon and now to Hawaii with CJ's work. The extremely fit duo cares about outer health (they both have six packs), but they care about inner health even more. And they have friends around the world to prove it.
Connecting is not something they take lightly. They've intentionally gotten to know many names and faces in our barn box, that sometimes gets too tucked away in a pineapple field on the hills of Haleakala.
This is not by mistake. They both believe in deeper purpose behind life's design, and they strive to bring out the best in each person they meet.
David and CJ are moving back to Oregon on Wednesday. We knew it would be a brief visit here, but we didn't know the lasting impact they would have. From teaching us how to use the gym timer, to showing us how to better love one another, to pushing the boundaries of men's fashion, we are grateful for all you have accomplished.
Healthy bodies are one thing. But healthy hearts and minds — this is where the real difference is made.
Mahalo to David and CJ for making a positive impact on our community! You both are pretty unique, in an amazing way. Aloha and a hui hou!