Helen 3 rounds for time: 400m run kettlebell x21 pull ups x 12 Welcome Bill and Nicole from Seattle!!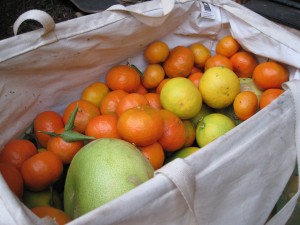 AMRAP in 20 minutes…
10 Ball thrusters,
20 walking lunges,
10 sit ups
200m run
Then pick as much fruit as possible in the remaining time!
Wow, thank you Angie! We are all so grateful for the bounty!
Welcome Joana and congrats for finishing Basics.  See you in the group classes next!!!
Another 1RM day!
Getting 1RM deadlifts for the board.  Great job everyone. Now, where did I put the list….