Celebrate what you've accomplished, but raise the bar a little higher each time you succeed. -Mia Hamm A friend forwarded this video which provided us all with great inspiration to get through today's WOD. WOD: 5 rounds for time: shuffle run 12 thrusters 12 OH walking lunges, each leg 12 sit ups 12 box jumps Welcome back Karen! Welcome newcomer Eric (who was drug there by his wife Lisa!) Go Sheila, Go Buzzy!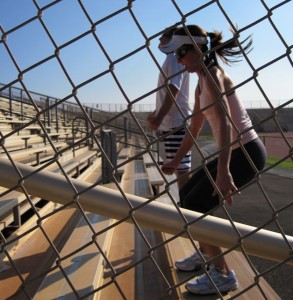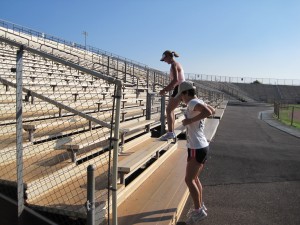 You can't get much done in life if you only work on the days when you feel good.
-Jerry West
Today we are going for another TOTAL. We will get everyone's 1RM Back Squat.
Followed by….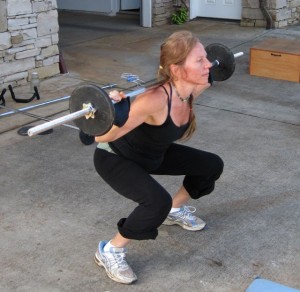 5 rounds for time
10 back squats
10 burpees
10 knees to elbows
Tracey: 1RM: 75; WOD 17:14
Maurgana: 85; 21:34
Deb: 105; 20:48
Lyn: 105; 10:42
Sheila: 105; 12:14
Kaye: 12:48
Welcome Kris and Joana, who completed
Basics I this morning!!
CrossFit Take Out: If you didn't make it to the WOD today do: 5 rounds of 20 air squats, 10 burpees and 20 sit ups. See you at the track tomorrow!
What a beautiful morning!! A walk on Baldwin Beach….
then on to the track.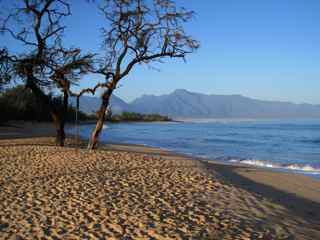 Small turnout but BIG fun!
21-15-9
400m run
Pull ups
GHD back extensions
situps
push ups
Lisa 18:32
Norby 17:19
Megan 14:28
Kaye 13: 25
Note to self: Be a better cheerleader. After the group did the WOD they stood around and cheered me through the workout. It was so motivating and fun. Only with their encouragement was I able to push so hard. I am going to try harder to cheer everyone else on in these daily WODs. -Coach Kaye
Today's CrossFit Take Out routine (meaning if you didn't make it to the WOD, do this at home!)
Run from here to there FAST! Do 21 push ups and 21 sit ups. Run there and back again. Do 15 push ups and 15 sit ups. Run again and finish with 9 push ups and 9 sit ups. I know Deb got her WOD in walking at Baldwin Beach this morning because I saw her there!