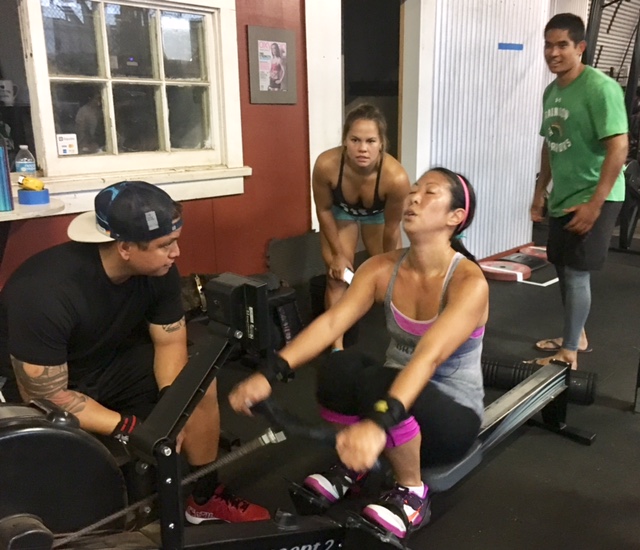 Interested in the 2019 CF Games Open at CF Upcountry?
WHEN: The first workout will be announced this Thursday! Deadline to sign up for this Friday heat is this Thursday at 8 p.m. Deadline to enroll in this year's five-week open is this Monday at 2 p.m.
CONVENIENCE: Each affiliate, which is a gym officially registered and recognized as a CrossFit gym, holds their own five-week competition, so you don't have to go far. Workouts are announced via CrossFit.com at 3 p.m. Thursday afternoon. Each athlete must submit his/her score by Monday at noon.
ALL LEVELS: There are RX and scaled divisions. RX is recommended for people who can complete gymnastics movements like unassisted handstand push-ups and muscle-ups (both bar and ring) and decent power and Olympic lifts. Scaled is for all levels, even beginners. If you're unsure, you can choose based on each WOD and you'll automatically get placed in scaled overall if a movement can't be completed at RX.
PRICE: It's only $20 to register online with CrossFit. Funds do not go to CrossFit Upcountry.
BENEFITS: Here are some benefits / motivators that people have told us over the years:
I've had fun cheering and exercising with friends
I am proud of myself for completing all five workouts, which is like completing a marathon
I pushed myself and accomplished more than I thought I could
I did something uncomfortable and I'm stronger mentally for it
I'm using the open as a way to eat right and stay accountable to workouts
I won't train consistently unless I sign up for something
I loved following the workouts each week and talking about them with friends
FRIDAY NIGHT LIGHTS: This year, we are once again holding CrossFit Games Open workouts on Friday nights. Regular class will be held from 4:30 to 5:30 p.m. Heats for open workouts will begin at 5:45 p.m. and continue until all registered athletes for that week are tested. If you cannot make Friday nights, you may still participate in the Open by contacting a coach and/or finding a judge to meet you. Popular times for outside testing are Fridays at open gym or Saturdays at open gym. If you are testing outside of Friday Night Lights, you are required to find your own judge, but we will help give you tips on who can possibly help.
VOLUNTEER / CHEER: Please consider volunteering to judge other heats if you are participating in Friday Night Lights. Also, if you'd like to be an official judge this year, or if you'd just like to come and cheer after Friday's regular class, we would love to have you!
TO SIGN UP FOR THE OPEN AND YOUR FRIDAY HEAT:
Go to CrossFit Games website and register for the Open. Select CrossFit Upcountry as your affiliate. Pay $20 to CrossFit.com.

Deadline to register for the 2019 Open is Monday, Feb. 25, at 2 p.m. HST.

Click here to register: CrossFit Games 2019 Registration
Then, hold your heat position by following the Signup.com link. The information you enter will not be held or used. You may change heats or sign up for others.

If you do not sign up for a heat by 8 p.m. the Thursday night before, you may forfeit your spot at that week's Friday Night Lights

. Click here to sign up for your heat: Friday Night Lights Heat Signup
Final heat assignments will be posted on the website by Friday morning at 10 a.m.