Ok, somebody needs to open a CrossFit in Sedona, Arizona! I took a long detour this morning from Phoenix to Prescott so that I could get a WOD in. The folks at CrossFit Prescott, like everywhere I have been in Arizona, were gracious and more than welcoming! And the WOD was brutal using the prowlers!  Thank you Joey and Andrea!
I just can't believe there is no CrossFit in Sedona! But I found the perfect place for it!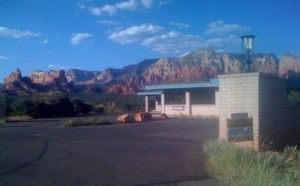 Wednesday's Workout:
Strength: Wendler Deadlift
WOD: For time;
21 kettlebell snatches with left arm
21 pull ups
21 kettlebell snatches with right arm
21 pull ups
15 KB snatch (L)
15 pull ups
15 KB snatch (R)
15 pull ups
9 KB snatch (L)
9 pull ups
9 KB snatch (R)
9 pull ups
Yes, that is 90 snatches and 90 pull ups. Plan your weight accordingly.
Here in Phoenix it is hot! I did two WODs this afternoon, one in Scottsdale and one in Tempe. 400m runs in 110º heat got me thinking about how great we have it on Maui!  So no complaining about the heat today at the track!
Tuesday's WOD, 5 rounds for time:
Hi

ll sprint

20 box jumps

20 walking lunges
WOD programming courtesy of Coaches Karen and Amber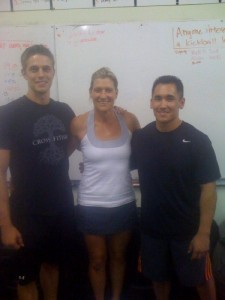 Warm up: 3 rounds of Cindy not for time but with dead hang pull ups and hands off floor push ups
Wendler strength: Bench press
Partner WOD:
While one partner runs to the street and back TWICE the other partner does exercise #1 until they return, then switch, continuing with exercise #2 & #3.
1) GHD sit ups
2) Burpees
3) Wall balls
Repeat for a total of three rounds. Go for time and total reps.  And just be glad you are not doing this WOD in Phoenix where it's been 100º!! Have fun!