Come in to see how CrossFit is different from your gym…

My Gym from Patrick Cummings on Vimeo.
Saturday's warm up: mobility drills
Skill work: kipping
Strength: Press
WOD: 7 rounds for time:
5 pull ups
10 box jumps
15 wall balls
And she is excited about sharing everything she's learned about the o-lifts! Today we will be doing some new drills and some skill practice, followed by a WOD recommended by Jor (so you know what that means!)
Warm up: Good mornings and bent over rows.
Skill practice: The lift & the pull (for cleans)
Wendler: Back squat
WOD: AMRAP 20 min;
5 thrusters
7 x HPC
10 x SDLHP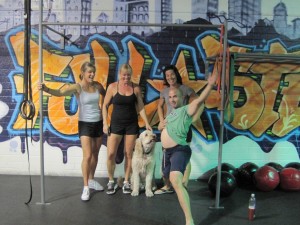 WOD; for time:
200m run • 50 squats • 50 push ups
200m run • 40 squats • 40 push up
200m run • 30 squats • 30 push ups
200m run • 20 squats • 20 push ups
200m run • 10 squats • 10 push ups
I can honestly say I am sorry to be leaving Phoenix for Maui Thurday.. This has been such an incredible week starting with the fabulous olympic lifting camp at the Charles Staley Bed and Barbell. Charles is a terrific coach and all around remarkable man. All the CrossFit boxes were so accommodating, generous and kind (not to mention fabulous coaching and cool boxes!) So i leave Phoenix not sad, really, but grateful for the experience and for the many new friends I've made this week.  Thanks to all of you who were involved and helped make this such a great experience for me.