Yes, we will be heading over to the park, so wear sunscreen.  And our programmer has decided to take the day off so we will be following the main site WOD.
Handstand walk 100 meters.
If you fall you must restart at the point furthest from the finish.
Now, please remember that all WODs are scalable.  Doubtful any of us can walk 328 feet on our hands.  So don't worry, I am sure Coach Kaye will figure out how to get you from one end to the other. And back. And then back again. And again. And again… Wear comfortable clothing. Oh, and white probably isn't a good idea either.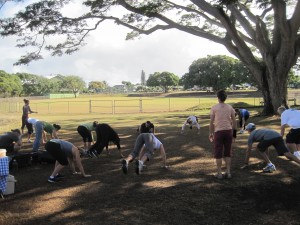 Come in this morning ready to breath fire!  After getting thoroughly warmed up we will set new PR's on the back squat. Get ready for another round of screaming and cheering!
Then…. One of our old favorites…. but this WOD needs a name! There will be a prize for who comes up with the best one!
AMRAP in 3 minutes:
5 Front squats
5 Push press
5 Pull ups
Rest 3 minutes and repeat for a total of 4 cycles
Your coaches hard at work during a very serious business lunch Thursday at the Maui Country Club.  We have lots of excitement in the making!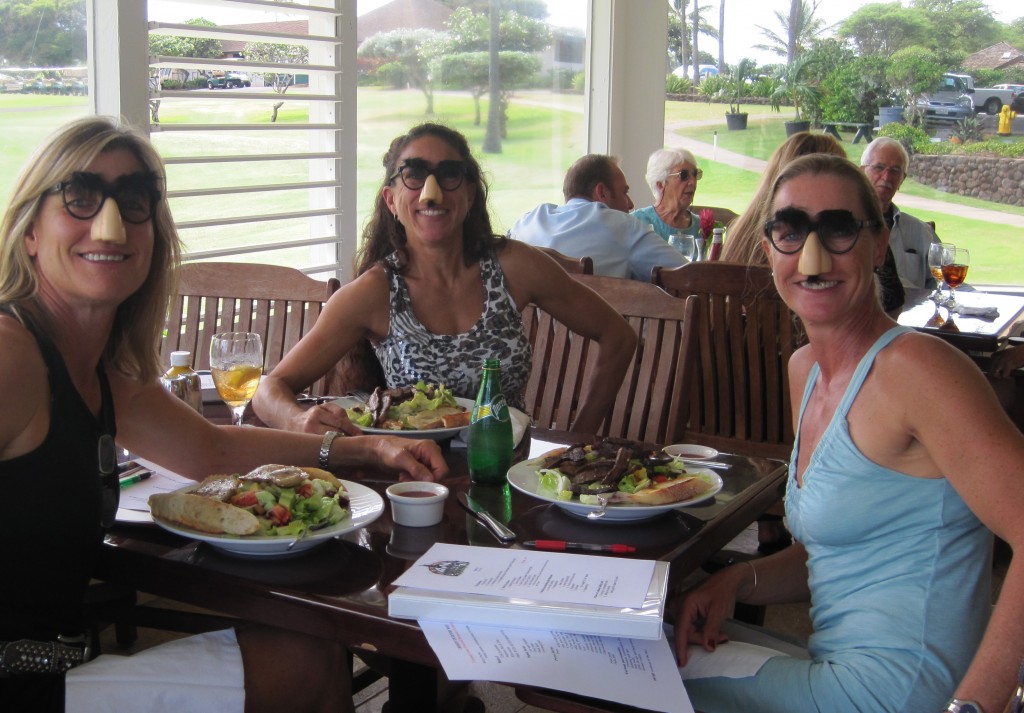 Yes, it's true.  Due to the continued growth we are adding Tuesday and Thursday mornings at 8:00 and 9:00 AM to the schedule at our box.  Yes, track classes will continue as well TFN.
What a day we had Wednesday! Our strength work is paying off in big dividends! Many of us celebrated new PRs! How fun it is to log those records in our notebooks. Let me just say that I am probably more excited than each and everyone of you about your gains. It is simply so rewarding as a coach to see the progression!
Thursday's WOD: 20 min AMRAP
3 bleachers (sub 30 double unders at the box)
10 eight count burpees (taking the "No Floppsies" to the next level!!!)
20 sit ups
This is meant to be a hard met con. Don't pace yourself. Go hard and rest when needed. Go for max rounds in 20 minutes.